You may have noticed that DART has a lot going on right now. Just to name a few, we are getting ready to roll out an improved bus system for our riders – DARTzoom: A New Bus Network – which begins Jan. 24. Construction is underway on the Silver Line Regional Rail Project. We have been holding public meetings about the D2 Subway project and the 2045 Transit System Plan.

That's in addition to any notices of bus detours and rail disruptions, plus special announcements or giveaway contests.

So how do you make sure you know about it all? Here are our top ways to stay informed!

1. Read and Subscribe to the DART Daily blog
If you are reading this article, you already know about DART Daily. We use this channel to address your questions about projects, share DART news, tell you about DARTable destinations and events, update you on new development in our service-area cities, and more.
But did you know you can subscribe to get an e-mail every time we post a new article?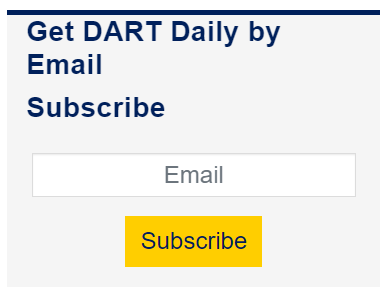 You will find this box on the right column of every page on the DART Daily website. Simply enter your email address in the field to subscribe.
2. Join an E-mail List
Each of DART's major projects has an e-mail notification list for that topic. Subscribing is a great way to stay up to date with projects that you are most interested in, or that may be affecting you or your community.
For information about DART's New Bus Network, scroll to the bottom of the homepage of DARTzoom.org to subscribe.
To stay informed about DART's capital projects – including Silver Line, D2 Subway, 2045 Transit System Plan, public meetings, and construction updates – sign up at DART.org/Growth.
3. Subscribe to My DART Updates
DART offers a free electronic subscription service that allows subscribers to receive automatic email or SMS/text message* notifications when selected website information is updated. To register for My DART Updates and have messages to your email or your phone, visit DART.org/email
*Message and data rates may apply.
Subscribers can choose from an expanding variety of topics and information categories that might be of interest such as:
DART Bus, DART Rail and TRE Rider Alerts
Elevator and Escalator Service Status
News & Events
Community Meeting / Public Hearing Notices
Inmotion Newsletter Alert
DART State Fair Service Information
Construction Alerts
DART Expansion Information including D2 Updates, Silver Line Updates, and Transit System Plan Update
Jobs at DART

My DART Updates is provided by GovDelivery, a leading vendor of email subscription services for government agencies.
4. Follow DART on Facebook, Twitter, and Instagram
If you prefer staying up to date through social media, our social channels are the easiest way to stay in the know while on the go. In addition to service change and project updates, we also feature exclusive photography and social media content on our platforms as well.
Be sure to follow, like, comment, and share!