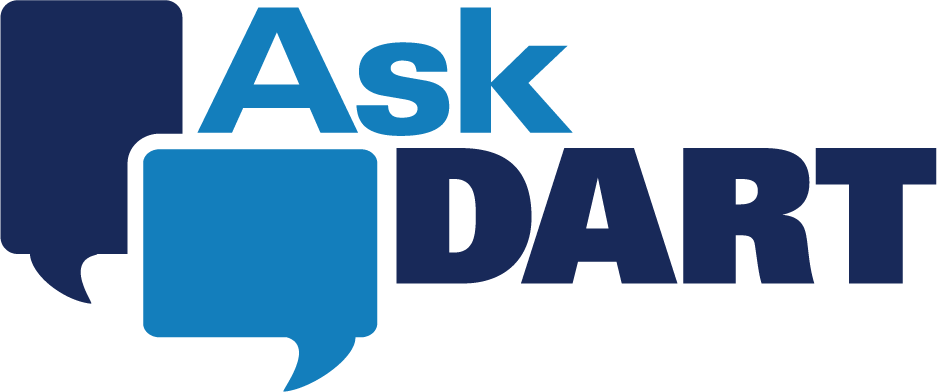 Question:
I heard that DART uses air purifiers and hydrogen peroxide foggers on its vehicles. How does this protect against the spread of coronavirus and are these processes safe for humans?
Answer:
You heard correctly that DART uses air purifiers and foggers as two of the methods we use to clean and disinfect our buses and trains.
More than 80% of DART buses feature a germicidal air purification system designed to reduce the transmission of airborne bacteria and viruses as air is recirculated throughout the bus.
Germicidal air purifiers use materials and technologies such as ultraviolet (UV) light, natural silver, and sterilizing heat to eliminate airborne pathogens from your space. The natural ultraviolet light eliminates airborne bacteria, viruses, germs and allergens as room air moves through the system.
The ultraviolet light breaks down the pathogens' DNA structures and destroys their reproductive capabilities. As a result, germs and allergens cannot reproduce and quickly die off. After UV light treatment is complete, clean air is returned to the bus cabin and the process repeats.
Since the air purifier is part of the bus's enclosed heating, ventilation and air conditioning system, the UV light never reaches passengers on board, making the system safe for humans.
On weekends, when ridership and trips are reduced, DART sanitizes and disinfects trains with Halosil hydrogen peroxide foggers that use a hydrogen peroxide-based cleaning solution. The agency also uses the foggers on the buses on a rotating basis.
The fogger generates an aerosol mist that uses evaporation to quickly disperse hydrogen peroxide vapor and increasingly concentrated micro-droplets everywhere, coating spaces beyond the reach of sprays, wipes or UV lights. The disinfecting solution blends the long-leveraged power of a hydrogen peroxide disinfectant with antimicrobial silver ions to provide multiple killing mechanisms for attacking pathogens.
Halosil's hydrogen-peroxide solution is on the Environmental Protection Agency's list for disinfectants for use against SARS-CoV-2, the pathogen that causes COVID-19. The mist formula safely decomposes into environmentally-friendly disinfection byproducts – water, oxygen and non-toxic silver complexes – making it both safe for people and earth-friendly.
In addition to air purifiers and foggers, all vehicles receive cleanings throughout the day using products identified by the EPA as successful in killing the coronavirus, as well as influenza, rhinovirus, norovirus, salmonella, staphylococcus and E. coli. The coronavirus falls into a category of viruses that are most susceptible to disinfectants.
DART buses receive cleanings nightly with an EPA-approved cleaning agent, focusing on high-touch surfaces such as handrails, stop-request buttons and grab rails.
All DART Rail trains receive a thorough cleaning using an EPA-approved cleaning agent at the eight end-of-the-line stations throughout the day. DART cleans Red and Blue Line trains every 60 minutes, and Orange and Green Line trains every 90 minutes. Cleanings focus on high-touch areas such as handrails, door buttons, grab rails and hanging straps.
Each weekday, DART Rail vehicles also receive a complete cleaning between 7 p.m. and 3 a.m., which includes sweeping, mopping and a complete wipe-down with an EPA-approved cleaning agent.
#AskDART