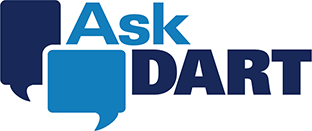 Great questions! Let's start by tackling the first part – "What is GoLink?"

GoLink is DART's on-demand service.

Using a variety of vehicles and service providers, GoLink delivers on-demand DART service within a designated zone.

With GoLink, you can book an on-demand trip and head to work, run an errand or connect to DART buses and trains.

The service is already available in several zones across the DART Service Area. On January 24, 2022, DART will expand GoLink coverage in some existing zones, as well as introduce several all-new GoLink zones! On that date, some DART bus routes will be replaced by GoLink service.

If your route is one of those affected, you'll have a chance to preview GoLink in preparation for these changes starting on December 6, 2021. DART encourages you to try out the service during this overlap period so that you understand the potential impact to your commute beginning January 24. Go here for a complete list of current and future GoLink zones, and to find the zone nearest you.

These changes are a part of DARTzoom, our new bus network that is simpler, better, faster and easier. Ride the bus with less fuss – and get there in a blink on GoLink.

Each GoLink zone provides service to a rail station or transit center, for connections to other DART services. Hours of operation vary by zone.
How is GoLink different from regular bus service?
Unlike a traditional bus, GoLink does not operate on a fixed schedule – it's totally on demand. In other words, you can't just walk up and get on board. Rather, you must book your trips in advance. It's easy to get moving with GoLink, though. Here's how to book and pay for trips:

Two Ways to Book a GoLink Trip

1. With the GoPass app
2. By calling 214-515-7272

Two Ways to Pay

Whether you book and pay for your trips through the GoPassapp or by calling 214-515-7272, your GoLink trip is covered by a valid contactless DART fare purchased using one of these forms of payment:

1. Credit or debit card
2. GoPassTap card

Fares are per person, per trip. Sorry, but GoLink does not accept cash fares, paper passes or vouchers.

To learn about available fare types, go here.

Now that you understand how GoLink works, it's time to try it out for yourself!
#AskDART
#DARTzoom