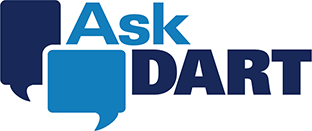 GoLink is DART's on-demand service on your schedule. DART has expanded and enhanced GoLink service over the past year as part of the New Bus Network.
Still unsure on how to use it? The below Q&A addresses many questions you may have about the service.
What is GoLink?
GoLink is DART's on-demand service. It works similar to Uber or Lyft. Using a variety of vehicles and service providers, GoLink provides on-demand service to destinations within a designated zone, and each zone provides service to a rail station or transit center for connections to other DART services.
How many GoLink zones does DART offer?
Currently, DART offers 32 GoLink zones across the service area. Click here to get the latest service information and find the zone nearest you.
Why should I use GoLink?
GoLink is great for going to work, running errands or connecting to DART buses and trains. Wherever you're heading, GoLink has you covered – with zones in the southern, eastern, western, central, northwest, and northeast parts of the DART Service Area. Just check out this map!
When does GoLink offer service?
Hours of operation vary by zone. Click on the individual zones to see complete service information by zone, key destinations and more. For holiday schedules, check the Rider Alerts on DART.org/RiderAlerts.
Can I just walk up and get on board GoLink?
No. Unlike a traditional DART bus that operates on a fixed schedule, GoLink trips must be booked in advance.
How do I book a GoLink trip?
DART offers two convenient ways to book a trip: Either with the GoPass app, or by speaking with a GoLink reservationist over the phone.
Is it easy to book a trip in the GoPass app?
Yes, it's simple and intuitive. To book a trip, simply select "Plan" within the GoPass app and enter where you want to be picked up and where you're heading. If GoLink is available for your trip, it will show as an option in your planning results. Now, simply press the "START BOOKING" button, and you're on your way!
What if I need to book by phone?
Start by calling 214-515-7272. DART takes phone reservations from 4 a.m. to 8 p.m. daily, but only same-day trips are accepted. DART accepts phone payments by credit card, debit card, or GoPass® Tap card. Riders that book with a credit or debit card over the phone will be issued a GoLink one-way fare. For service in the Inland Port Connect zone, please call 877-631-5278.
Does my DART pass cover my GoLink trip?
If you've already purchased a valid contactless DART fare, your GoLink trip is covered at no additional cost. You're all set and ready to make your connection! For a complete list of fares and to see one-way fare options, please click here.
What if I have a paper pass, or I just want to pay with cash?
GoLink does not accept paper passes, cash fares, or vouchers on board. Keep in mind, though, that you can load your GoPass Tap card with cash at hundreds of participating retailers and then use your card to pay for your trips, either by phone or in the GoPass app.
How do I get the best fare?
To receive the best fare, use the GoPass app or a GoPass Tap card. You can link your GoPass Tap card to your GoPass account in the app. When paying with a GoPass Tap card, please remember that each rider must have their own card.
What do GoLink vehicles look like?
Great question. GoLink vehicles come in all shapes and sizes! While DART offers branded GoLink vans, you may also ride in vehicles similar to the ones provided by other rideshare services.
What if a GoLink ride is not available as soon as I need it?
If your trip begins or ends at a DART rail station or transit center, you can select an UberPool ride for no additional cost. Each rider may take up to 2 UberPool trips per day.
Why did DART replace some fixed-route bus service with GoLink?
DART introduced GoLink in areas where ridership no longer warranted traditional fixed-route bus service. The agency is trying to match service levels with demand. While GoLink may take a little getting used to, it's a convenient and affordable way to get moving across the DART Service Area!
Does DART offer any tips or tricks to riding GoLink?
Absolutely. Before you head out on your first GoLink trip, check out these "Five Keys to a Smooth Ride":
1. All trips require an advance booking. No walk-ons allowed.

2. If you need an ADA-accessible vehicle, be sure to request it when booking.

3. Children ages 12 and under must be accompanied by an adult.

4. Be ready. Vehicles depart briefly after arriving at the pick-up point.

5. Need to cancel a trip? Be sure to do so before the vehicle arrives, either via the app or by calling 214-515-7272. For the Inland Port Connect zone, cancel by calling 877-631-5278.

I'm still not sold. Can DART give me one good reason to try GoLink?
DART can't give you just one good reason to ride. How about four instead? For starters, you get on-demand service on your schedule. Second, you can make connections to other DART services. Third, you're able to skip the stress of driving. Last but not least, you can save money!
Now that you got the breakdown on GoLink, the only thing left to do is ride! Let's go!