Question:
Are DART transit centers still open?
Answer:
Beginning Friday, March 27 at 5 p.m., as a precaution against the spread of the new coronavirus, DART is temporarily closing the indoor waiting areas at all transit center locations. The agency is also temporarily closing DARTmart and Lost & Found, both of which are located at DART Headquarters in downtown Dallas at Akard Station.
The impacted transit centers include: Addison Transit Center, Arapaho Center Station, Bernal/Singleton Transfer Location, Central Business District (CBD) East Transfer Center, CBD West Transfer Center, Cockrell Hill Transfer Location, Downtown Garland Station, Downtown Irving/Heritage Crossing Station, Hampton Station, Illinois Station, Jack Hatchell Transit Center, J.B. Jackson Transit Center, Lake June Station, Lake Ray Hubbard Transit Center, Ledbetter Station, Parker Road Station, Red Bird Transit Center, South Garland Transit Center, and Westmoreland Station.
But we are still serving customers remotely.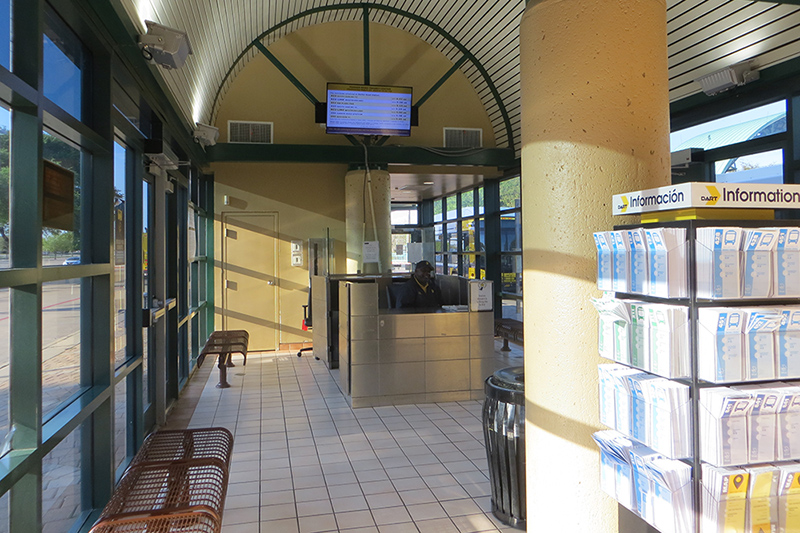 Parker Road transit center interior

Customers who have lost items on DART property should contact Lost & Found at 214-749-3810. If the lost item is found, Security staff at DART Headquarters will be able to retrieve the item for the customer, but customers must first contact Lost & Found before going to DART Headquarters.

The best way to stay up to date on service alerts and other DART-related news and information is to register for My DART Updates. Once registered, you will receive text and/or email messages about specific rail lines and bus routes, along with other DART information. Sign up at DART.org/email.
For those essential workers who depend on DART to get to their place of employment during this challenging time, the GoPass® app is useful tool. On the app, you can buy your transit pass, so there is no need to touch the ticket vending machines. The app also allows you to plan trips and track buses and trains in real-time. You can download the app from the Apple App Store or the Google Play Store.
DART's mobile site, m.DART.org, is also available to customers. On this site, you can access travel tools like the trip planner, bus and train locators, rider alerts and point-to-point schedules.
Customers also can follow us on social media. Follow @DARTmedia and @DARTalerts on Twitter, @DARTDallas on Facebook, @DARTDaily on Instagram, and @DARTDallas on YouTube.
If you need to report an issue, take advantage of the free DART Say Something safety and security app. With this app, users can discreetly communicate with DART Police and send them photos, video, text descriptions and your location.
The safety of our customers and employees is our top priority during this challenging time. Learn more on how DART is responding to the coronavirus at DART.org/health.