Are you are coming? We hope you are!
Seniors are invited to "Connect, Create, Contribute" at DART's 25th annual Older Americans Information and Health Fair. This FREE event is next Thursday, May 16, 10 a.m.-1 p.m., at Centennial Hall in Dallas' Fair Park.
Here are some tips to make your Older Americans Fair outing a success:
TELL US YOU ARE COMING!
Let DART know you plan to attend by registering online at DART.org/seniors.
Although the event is free, we ask that you register before the event so we can plan for your attendance.
You do not need to register in advance to attend the fair.
GET HERE ON DART
Attendees are encouraged to ride DART's Green Line to Fair Park Station. Centennial Hall is located just inside the Fair Park gate.
Volunteers will be at Fair Park Station to help you get from the train station to the front door of Centennial Hall.
A Local Midday Pass (9:30 a.m. to 2:30 p.m.) – at $2 each – is the best value for taking DART to the event.
Reduced fares also are available for senior citizens ages 65 or older (with a valid DART photo ID), non-paratransit certified persons with disabilities (with valid DART photo ID) and Medicare card holders. Reduced Local Day Passes are only $3 each. Everyone age 15-64 pays regular fare and a Local Adult Day Pass is $6.
KNOW THE SCHEDULE AND ACTIVITIES
Doors open at 9 a.m. Opening remarks begin at 9:45 a.m. The even ends at 1 p.m.
Arrive early to get the best seats and the most freebies.
Experience free health screenings, valuable information for seniors, games, giveaways, live entertainment, food and more!
GET REWARDED FOR RIDING
Present your valid DART pass at the DART table to receive a special prize.
DART will recognize the center or organization that brings the most seniors on DART.
VISIT THE DART SENIOR PHOTO ID BOOTH
During the Older Americans Fair, attendees who are 65 or older will be able to obtain a DART Senior Photo ID, which is needed to ride with a Reduced fare and is valid for DART, TRE, Trinity Metro and DCTA buses and trains.
Seniors should bring $2 cash and proof of age such as a Driver's License, birth certificate, passport, Texas Department of Public Safety photo ID, or other substantiating documentation.
A DART Store agent will take the picture and create the DART Senior Photo ID card on site.
QUESTIONS ABOUT THE EVENT?
We'll see you Thursday, May 16!
The 25th annual Older Americans Month Information and Health Fair is hosted by DART in partnership with:
A special thank you to our media partners: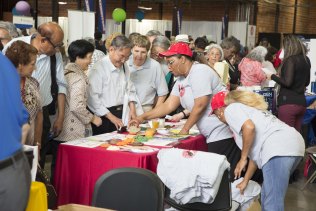 #DARTOlderAmericans