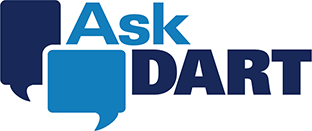 DART has recently launched a redesigned website, providing riders with a user-friendly experience and new trip planning capabilities.
The new website offers real-time trip planning with GoLink integration through an enhanced trip planner tool.
You can now see if GoLink is an available option when you are planning trips online as the website matches the results from the GoPass® app.
There are two easy and convenient ways to book a GoLink trip: Either by using the GoPass® app or by calling 214-515-7272. Learn more about GoLink at DART.org/GoLink.
Visit the new website today at DART.org.