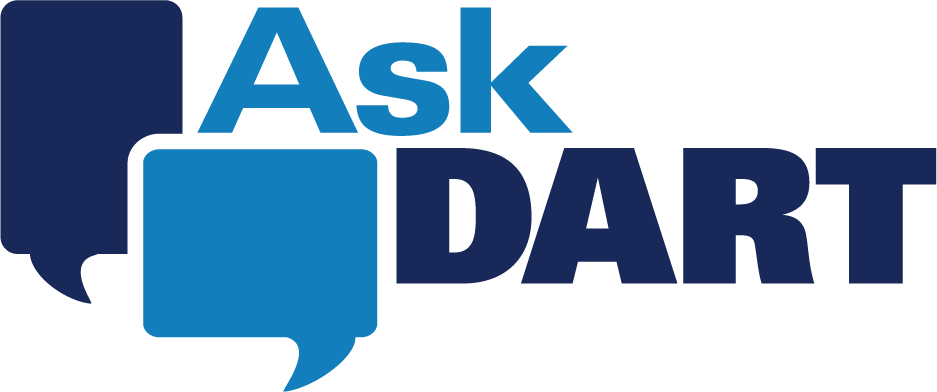 Question:
What should I do if I lose something while riding DART and need to get it from Lost & Found while DART Headquarters is closed due to the coronavirus?

Answer:
The fastest way to track down your lost items is to call us:
DART Lost and Found
214-749-3810
If Lost & Found has your item, and we can verify ownership, then you may schedule a time to retrieve your item(s) at DART Headquarters.
If Lost & Found receives an item with identification, a representative will contact you by phone, email or mail. Agents check for your name, phone number and/or address.
You must schedule an appointment to retrieve your lost items. Appointments are available between 8 a.m. and 5 p.m., Monday-Friday. DART Lost & Found is closed on holidays.
DART Headquarters is located at 1401 Pacific Ave., Dallas, TX 752020 at Akard Station.
When you arrive during your scheduled time to retrieve your personal item(s):
Go to the rear entrance doors on Federal Street.

Do not

go to the main doors on Pacific Avenue, which face the Akard Station light rail tracks.
Use the intercom to the right of the glass doors to contact DART Security.
You must have a photo ID available to show DART Security. If you are retrieving a lost ID, you must have another form of valid ID to confirm your date of birth and address.
Once your identification has been verified, you will be allowed to enter DART Headquarters.
Go to the Lost & Found window to retrieve your personal item(s).
High-priority items that you can pick up immediately:
Purses/Wallets
Cellphones
Laptops
Prescription medication
Prescription glasses
Canes, walkers
Keys
Identification cards
Bank (credit, debit) cards
Items that must be quarantined for at least 14 days, out of an abundance of caution:
Backpacks, duffle bags, suitcases, trunks
Boxes
Other large items
It usually takes at least 1-2 business days for items to transfer from the bus and rail divisions to DART Headquarters. Check back every day or two. Lost & Found agents log all items as they come in and organize items in a secure storage room. They can quickly determine if your item has arrived.
Call DART Lost & Found at 214-749-3810 with any questions you have.
#AskDART