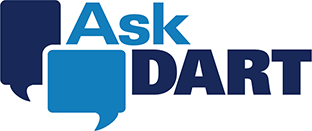 DART launched the Discount GoPass Tap pilot program to reduce transportation costs by giving qualified lower-income riders 50% off regular adult local DART fares.
If you've already met the qualifications for any of these assistance programs, you automatically qualify for a Discount GoPass Tap card!
Children's Health Insurance Program (CHIP)
Comprehensive Energy Assistance Program (CEAP)
DHA: Housing Solutions for North Texas
Housing Choice Voucher Program (Section 8)
Medicaid
Medicare
Special Supplemental Nutrition Program for Women, Infants and Children (WIC)
Supplemental Nutrition Assistance Program (SNAP)
Temporary Assistance for Needy Families (TANF)
Three Ways to Register
Your Discount GoPass Tap card will be white and have your name, photo, and a sticker with the discount expiration date of Dec. 31, 2022. DART fare enforcement officers, police officers and bus operators know that anyone with this card qualifies for reduced DART fares.
You must submit a separate registration form for each qualified person in your household because each person must have their own unique Discount GoPass Tap card to ride.
Here are three ways to apply for a card:
1. In person at DARTmart at Akard StationBring a photo ID, proof of participation in a qualifying assistance program, and at least $6 to load onto your new card.
2 Online at DART.org/TapForHalf
Follow the instructions for attaching your photo and proof of participation in a qualifying assistance program.
3 Call the DART Tap for Half team at 972-482-6491DART staff will collect your information over the phone, and they will arrange for you to submit a photo and qualifying documentation.
Discount GoPass Tap Benefits
Like the regular GoPass Tap card, the Discount GoPass Tap Card is a reloadable fare payment card that gives you a convenient way to pay for bus, rail, and GoLink fares, but at half the cost of the regular DART fare.
Load value onto your Discount GoPass Tap card account before you start riding DART. Then, simply touch the card to the electronic reader every time you board or transfer to a vehicle. Your fare deducts automatically. If you need to ride GoLink, call 214-515-7272 to schedule and pay for your trip.
Here are other benefits to using GoPass Tap to pay your fare:
Get the best fare every time you ride, automatically.
Fare capping ensures you never overpay – daily and monthly.
Reload your card at hundreds of participating retailers, online at GoPass.org, or by calling DART Customer Service at 214-979-1111.
Never lose your account balance if your card is lost or stolen.
Your card is automatically registered when it's issued. To manage your account online, go to GoPass.org and click "Create New Account" at the top of the page. Once you have set up your GoPass Tap account, you can reload your card, view your transaction history, and save payment methods online.
Learn more!
Online: DART.org/TapForHalf
Phone: DART Customer Service at 214-979-1111
Email: [email protected] Discount GoPass Tap pilot program is currently scheduled to expire on Dec. 31, 2022.