Juneteenth is now a federal holiday and communities across North Texas are holding celebrations. Check out these DARTable events.
Dallas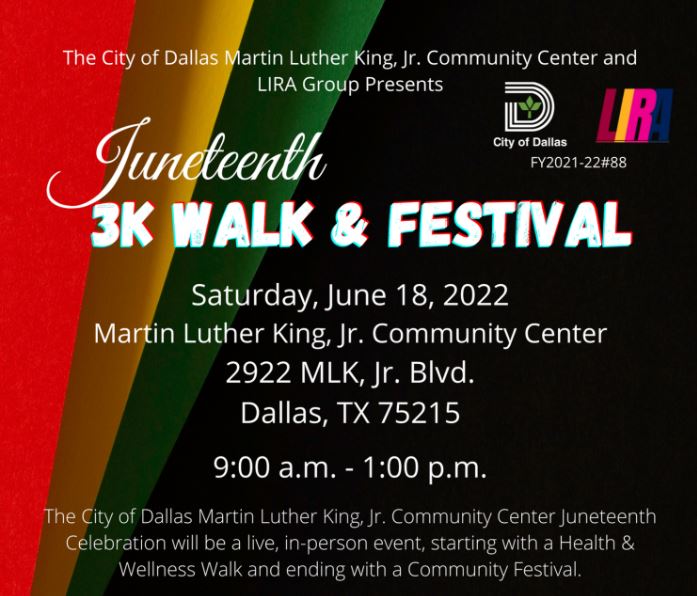 June 18
Juneteenth 3K Walk and Festival
Martin Luther King Jr. Community Center, 2922 MLK Jr. Blvd., Dallas
9 a.m. - 1 p.m.
DallasMLKCenter.com/Juneteenth/
Green Line to MLK, Jr. Station

Celebrate the holiday with a morning Health and Wellness Walk and end the day with a community festival. The festival will feature live entertainment, vendors, and free children's activities. If you want to participate in the walk, you must register at bit.ly/juneteenth22. The festival is free to attend.
June 18
Elite News North Texas Juneteenth Festival
Fair Park, 1121 1st Avenue, Dallas, TX
10 a.m.-8 p.m.
NorthTexasJuneteenthCelebration.com
Green Line to Fair Park Station
The Blair Foundation and Elite News will be hosting the North Texas Juneteenth Celebration, March and Festival. The event will feature local black vendors, concessions, health and beauty expos and panels covering a variety of topics. There will also be a kids' zone and other cultural activities to celebrate the national holiday.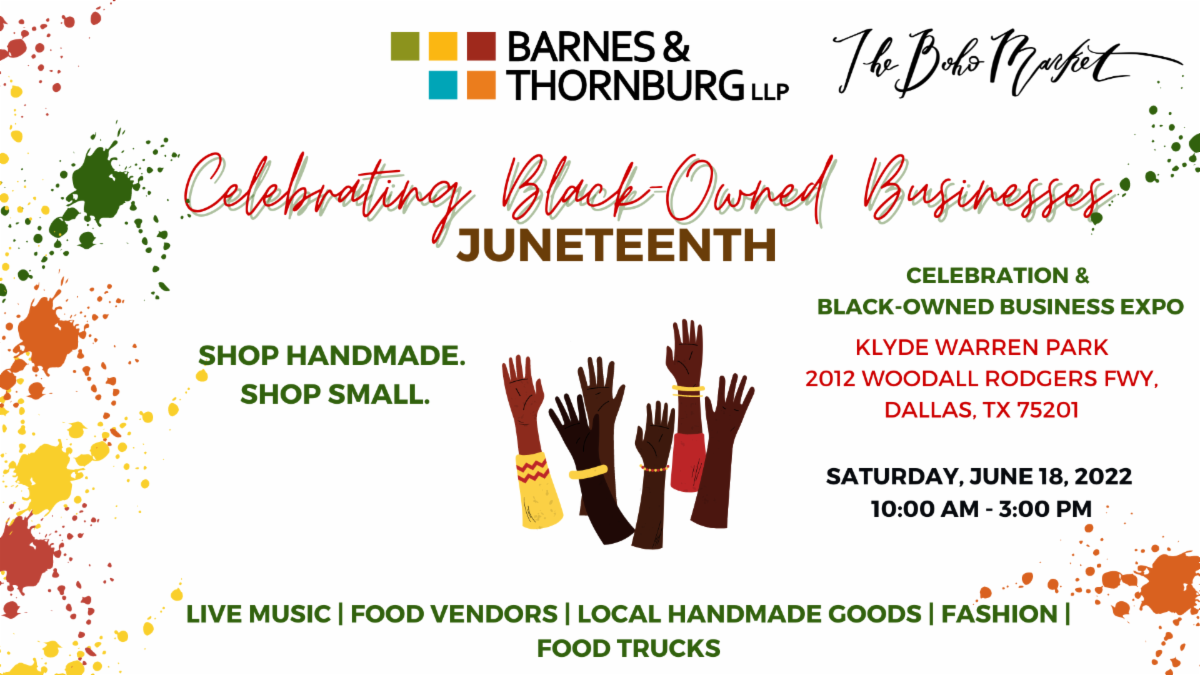 June 18
Black-Owned Business Expo with The Boho Market
Klyde Warren Park
10 a.m.-3 p.m.
KlydeWarrenPark.org
All DART Rail Lines to St. Paul Station or M-Line Trolley
Commemorating Juneteenth, this specially curated event, funded by Barnes & Thornburg and in partnership with The Boho Market, is open to all. Enjoy local handmade goods, fashion, live music, food vendors and trucks from more than 40 local vendors. Support small Dallas-area business owners while you observe this new federal holiday.
June 18
Texas Black Invitational Rodeo
Fair Park Coliseum
6 p.m.
FairParkDallas.com
Green Line to Fair Park Station
Presented by the African American Museum Dallas, the rodeo features 300 cowboys and cowgirls competing for prizes in bronc and bull riding, calf and steer roping, barrel racing, a Pony Express relay race and more.
Irving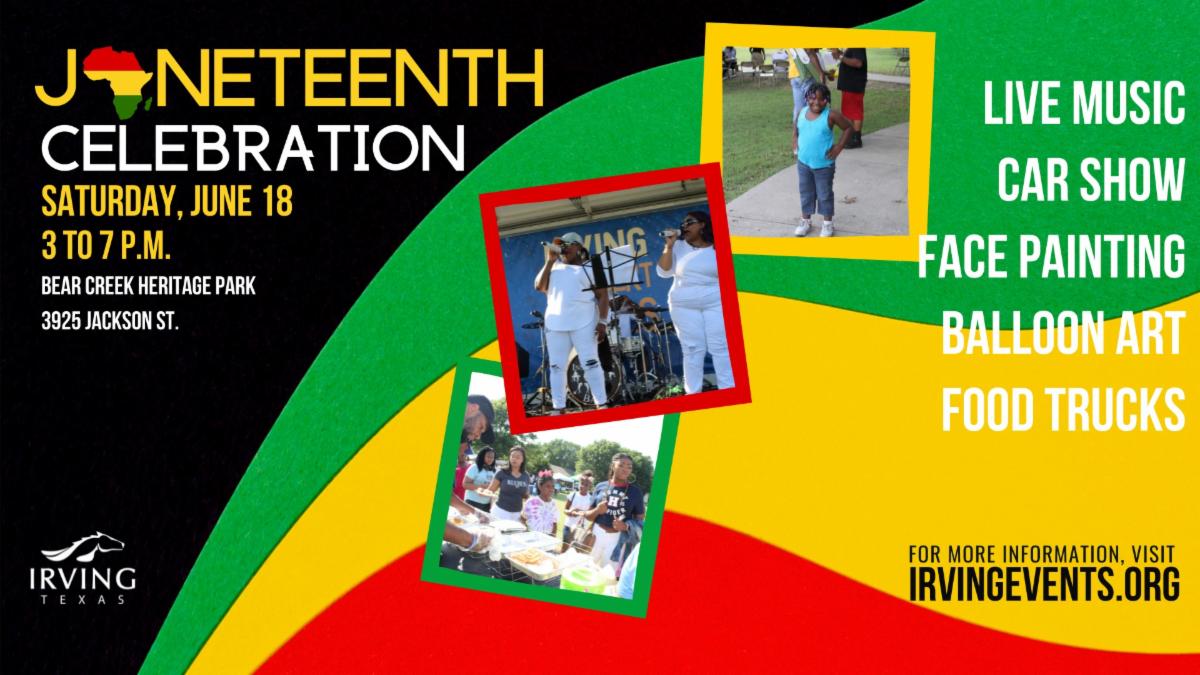 June 18
Juneteenth Festival and Walk of Celebration & Remembrance
at Bear Creek Heritage Park
3925 Jackson St.
1-7 p.m.
CityofIrving.org
TRE to West Irving Station
The City of Irving and the West Irving Improvement Association are hosting a Juneteenth Festival. The event will kick off with A Walk of Celebration & Remembrance which will begin at 1 p.m. at Shady Oaks Elementary located at 800 Compton Ave. and finish 3901 Jackson St., Irving, TX. Then enjoy live performances from All Funk Radio Show and Moore Melodies at Bear Creek Heritage Park. Activities include a car show, face painting, balloon artist and more. Food trucks and other vendors will be available on-site.
Plano
June 18
2022 Collin County Juneteenth Celebration
Haggard Park, 901 E. 15th St.
10 a.m.-3 p.m.
Douglass Visions Committee website
Red Line to Downtown Plano Station
At the Collin County Juneteenth Celebration, visit vendor booths to sign up for giveaways and participate in kids' activities. Embrace the theme "We are the Dream" and get to know your neighbors. This event is funded in part by the City of Plano.
Rowlett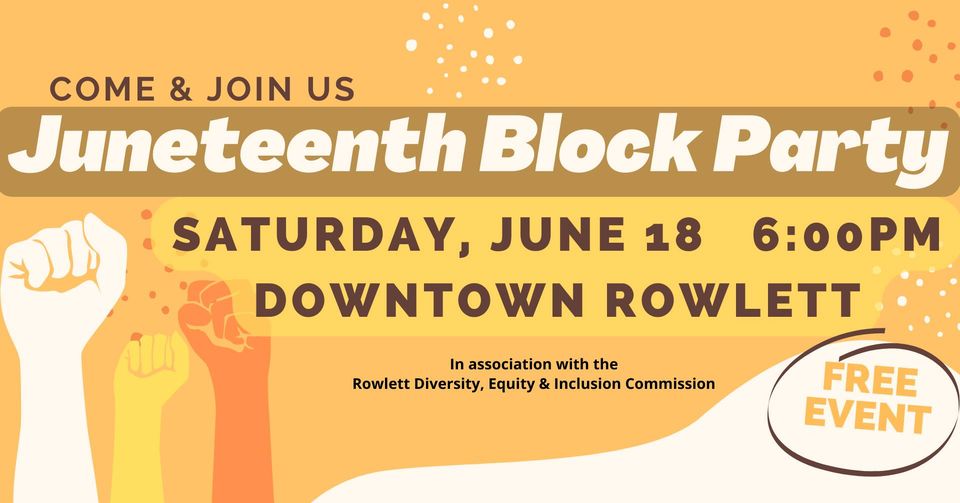 June 18
Juneteenth Block Party
Village of Rowlett Downtown, 4001 Main St.
6-9 p.m.
ci.rowlett.tx.us
Blue Line to Downtown Rowlett Station
The City of Rowlett Diversity, Equity, and Inclusion Commission is hosting a Juneteenth Block Party in Downtown Rowlett. Come out and enjoy the live DJ, food, games, a bounce house, poetry jam and meet your neighbors.