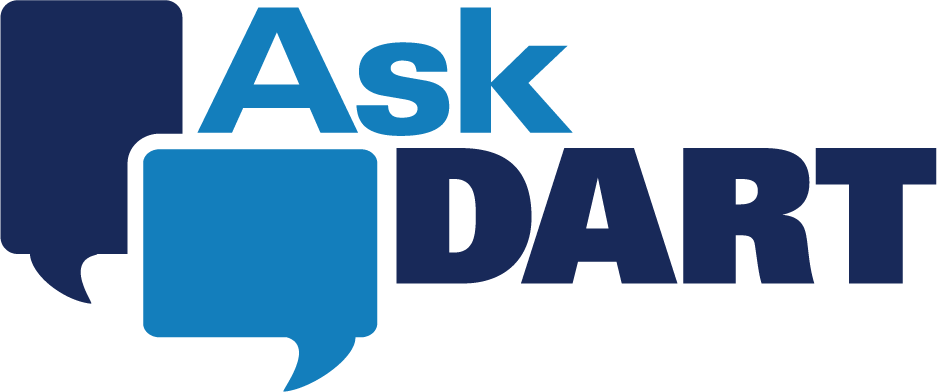 Question:
How is DART responding to help prevent the spread of the coronavirus?
Answer:
The safety of DART riders and employees is our top priority. DART continues to actively monitor and respond to the COVID-19 situation. Here are four of the many things we are doing to help keep you safe.
Performing additional cleaning on our vehicles
DART follows the cleaning and disinfecting guidance and recommendations of local, state and national health authorities, including the Texas Department of State Health Services and the Centers for Disease Control and Prevention,
All vehicles receive cleanings throughout the day using products identified by the Environmental Protection Agency (EPA) as successful in killing the coronavirus, as well as influenza, rhinovirus, norovirus, salmonella, staphylococcus and E. coli. For more detailed explanation of cleaning protocols, please click here to read the "Ask DART: Cleaning Protocols" article.
Providing mask and sanitizer dispensers
When you board a DART bus or train, you must wear a mask – it's for your safety and that of others. If you forgot your mask, no worries. DART provides face masks and hand sanitizer dispensers on all buses, light rail vehicles and the Dallas Streetcar.
We also encourage customers to wear their face covering while waiting at bus stops, transit facilities and rail stations when maintaining a 6-foot social distance from other riders is not possible.
Encouraging social distancing
DART has chosen to limit capacity on its buses and trains to enable our customers to practice social distancing. On trains, DART is limiting passenger capacity to 47 people per vehicle. On 40-foot buses, DART is limiting passenger capacity to 20 riders, and on 31-foot buses, passenger capacity is limited to 17 riders. Passenger capacity is six people on ARBOC buses.
For more detailed explanation of how we are limiting capacity, please click here to read our Aug. 6 "Ask DART: Bus and Rail Capacity" article.
Offering contactless payment options
DART encourages all riders to buy their passes with one of our contactless fare payment options – either the GoPass app or a GoPass Tap card. These are the safest and best ways to purchase a pass so that you can avoid contact with surfaces that others may have touched.
If you don't already have the GoPass app, you can download the latest version for free from the App Store or Google Play.
Another option is GoPass Tap, a reloadable fare-payment card. These cards can be purchased at 7-Eleven stores or other participating retailers. Visit GoPass.org to learn more.

#AskDART