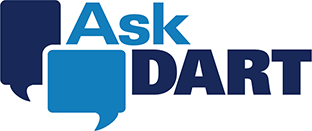 What are the steps or phases to the hiring process for DART?
DART has a standard hiring process that requires several steps to ensure that we are selecting the best candidates for the designated role. For the most part, the hiring process are as follows:
Online Application: All applicants apply online for the employment opportunity. The applicant will then receive communication from the DART system thanking the candidate for applying and indicating that the application was received. The application is then reviewed by the HR specialists who make sure the candidate meets the minimum qualifications.
Selection: From there, the HR specialist will share the qualified applicants with the Hiring Official for review and selection. The specialist will coordinate interviews with the candidate(s) and conduct the interviews with the appropriate team. The candidates will then be ranked based on the interviews and the most qualified candidate(s) will be selected. The HR specialist will then prepare a conditional offer.
Background Checks: Pending the results of a medical physical, drug screening, background check, and verification of education and experience.
Offer and Onboarding: After everything has been validated, our HR specialist will extend the final offer. If the candidate accepts, DART will begin the onboarding process and schedule the applicant for New Hire Orientation.
What makes DART a great place to work?
Cross-functional team partnering, team building, and opportunities to work with external partners are part of what makes DART special. DART tries to develop a winning work environment, includes employees in programs, and promotes diversity and inclusion within the agency. Many of the employees at DART have great tenure within the agency, upwards 20 to 40 years of service, which is a testament to the positive work experience.
What are some unique benefits to working at DART?
We are creating new and innovative pathways to public transportation and continuing to saturate the market with transit solutions for now and the future. DART also provides 401k and a pension plan for the employees, which is somewhat unheard of in the corporate world. All employees receive a regional annual transit pass for themselves and one dependent.
Where can job seekers get more information?
Job seekers can keep an eye on our website – DART.org/Jobs – for job openings and application information. They can also learn more about DART's hiring opportunities at the nine Workforce Solutions offices in Dallas County. We share information about job fairs on DART's social media channels, especially LinkedIn.
DART will be present at the State Fair of Texas from Oct. 17-19. Stop by the DART booth to get more information on DART's hiring opportunities. The DART booth will be near Nimitz Terrace.
DART is also hosting a Job Fair at DART's Headquarters on Saturday, Oct. 15. More information to come.

DART HQ
1401 Pacific Ave.
Dallas, TX 75202