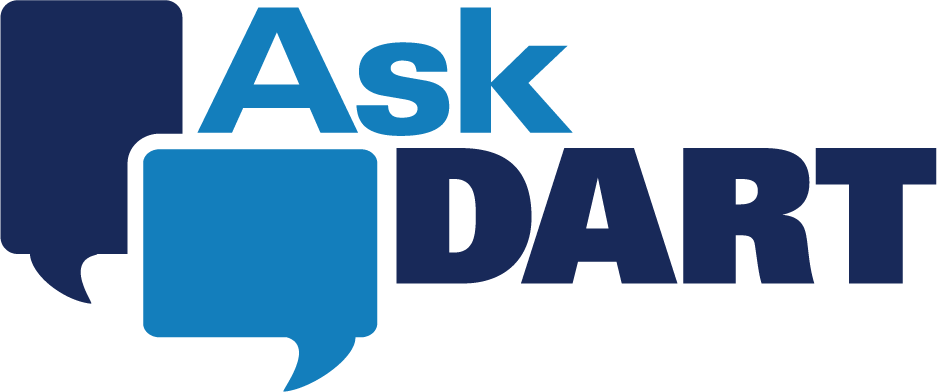 Question:
When is DART returning to its regular schedule?

Answer:
DART has been carefully monitoring ridership to ensure appropriate social distancing on buses and trains as the COVID-19 pandemic continues.
The DART Board of Directors will determine when a return to normal service on buses and trains takes place. The Board is currently considering proposals to restore normal service on some DART bus routes in October and will make decisions later this summer.
DART expects ridership to remain well below pre-COVID-19 levels for an extended period, and it is possible that some routes may continue with reduced service levels into 2021.
DART continues to run extra bus trips where we have seen higher ridership loads.
DART Bus and Light Rail Service
The following temporary service adjustments for bus and light rail that began April 6 will continue until further notice:
All light rail service will operate at a 20-minute frequency throughout the day.
All bus routes will have service on weekdays, except routes 155 and 887. Route 155 customers have access to route 554, and 887 customers have access to GoLink Service.
No changes are being made to the Dallas Streetcar schedule nor weekend bus and light rail service.
All DART Transit Center indoor seating areas, as well as the DARTmart store and Lost & Found will remain temporarily closed.
More details, including schedules, can be found at DART.org/mod or by calling DART Customer Service at 214-979-1111.
Trinity Railway Express Service
Temporary service adjustments for the Trinity Railway Express began March 23.
As of June 22, the Trinity Railway Express began enhancing eastbound service with an additional trip to provide more options for passengers making early morning trips to Medical/Market Center Station, while maintaining good social distancing practices:
The eastbound train now begins service at Fort Worth T&P Station at 4:51 a.m.
An additional eastbound train will depart Fort Worth T&P Station at 6:21 a.m.
The remainder of the weekday modified schedule effective March 23 and the current Saturday schedule remain unchanged.
Learn more at: https://dart.org/rideralerts/fullra.asp?id=4959.
Stay Up to Date
Keep informed on service alerts and other DART-related news and information when you register for My DART Updates. Once registered, you will receive text and/or email messages about specific rail lines and bus routes, along with other DART information. Sign up at DART.org/email.
DART Customer Service is also available seven days a week for routes, schedules, trip planning assistance and other DART questions. Call DART Customer Service at 214-979-1111.
Learn more about DART's coronavirus response at DART.org/health.

#AskDART