In July 2012, the long-awaited first segment of the Orange Line light rail extension into Irving opened. Just two years later, the Orange Line had expanded through Las Colinas and arrived at DFW Airport Station at Terminal A. Throughout DART Rail's Irving expansion, the City of Irving and the Irving Las-Colinas Chamber of Commerce have been partners in our success.
From the City of Irving:
"DART's light rail service helps connect Irving residents and visitors to key locations throughout DFW, including airports, business centers, medical facilities, shopping, cultural destinations, universities and beyond. For many Irving residents, DART is the link from home to essential services, work and entertainment. Congratulations on 25 years of light rail service, DART!"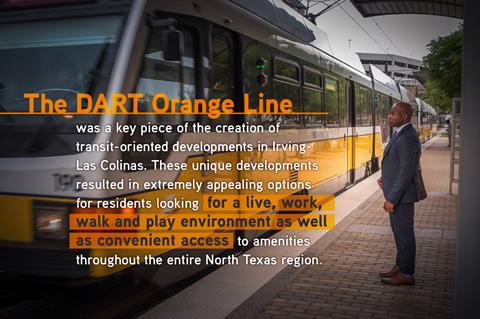 From the Irving-Las Colinas Chamber of Commerce:

"DART light rail is far more than just 'the thing you ride.' It is your 'trusted guide' to discovering all that Irving-Las Colinas has to offer. The DART Orange Line was a key piece of the creation of transit-oriented developments in Irving-Las Colinas. These unique developments result in extremely appealing options for residents looking for a live, work, walk and play environment as well as convenient access to amenities throughout the entire North Texas region.

"Las Colinas is Irving's premier business center with nearby access to more than 3 million highly qualified employees. Connectivity via five DART Rail Orange Line stations provides a significant amenity for employers recruiting the best talent. Easy access to both airports have made calling Irving-Las Colinas home a smart business decision for 12 Fortune 1000 global headquarters and 150 international companies.

"With dozens of restaurants and retail at the Toyota Music Factory, as well as premier concerts and shows at Live Nation Pavilion, entertaining out-of-town guests via the seamless DART Rail line has never been easier. DART Light Rail makes experiencing all that Irving-Las Colinas has to offer easily accessible."


#DARTRail25
DART.org/DARTRail25