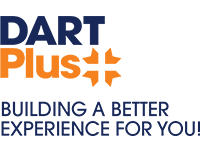 Buses will replace trains on weekends only starting March 30 when DART begins making track improvements and replacing rail in Downtown Dallas.
The weekend construction will continue into September and normal weekend service is scheduled to resume in time for the start of the State Fair of Texas.
The closures will allow DART to replace track along Pacific Avenue and Bryan Street, repair and add additional rail crossovers, and repair city streets and drainage. The track improvements will create a smoother ride through downtown, eliminate ongoing maintenance issues and increase the number of areas where trains can switch tracks, which will reduce service disruptions.
Rail service will be interrupted on the Red and Blue Lines between Union Station and Pearl/Arts District Station, the Green Line between Victory and Deep Ellum Stations, and the Orange Line between Victory and LBJ/Central Station, and between Victory Station and Parker Road Station.
Six separate DART shuttle bus routes will operate during the weekend closures to serve the affected downtown stations. Buses will load and unload at the red "Rail Disruption" bus stop located near each station. Signs on the rail platform will point customers to these bus stops.

Two Local bus routes (932, 934) will stop at every impacted station: Pearl/Arts District, St. Paul, Akard and West End.
Three Express routes (931, 933, 935) will connect Pearl/Arts District Station, Union Station and Victory Station.
An additional Express route (936) will connect Mockingbird Station and Bachman Station.
Service and project updates will be available at DART.org/plus.
Shuttle Bus Routes
Not Depicted: Route 936 - West End Station to Bachman Station