Lots of spooky stuff is afoot this weekend, with Halloween and Day of the Dead both being celebrated. DART takes you right to the fun.
Friday, Oct. 28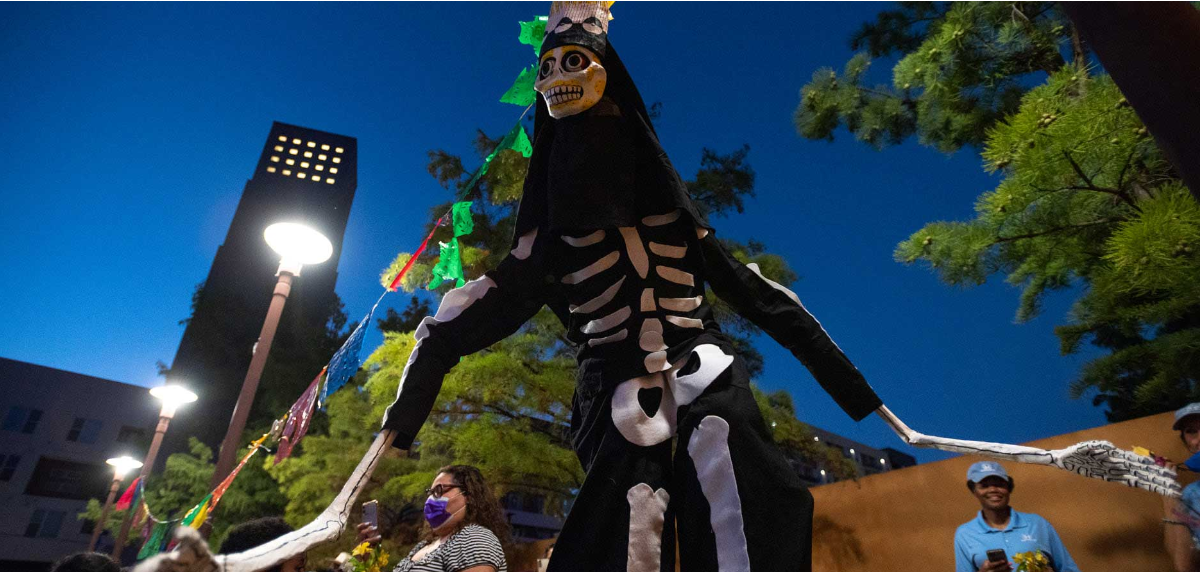 Carnaval de Los Día de los Muertos is Cara Mia Theatre's gala event featuring a buffet dinner, drinks and silent auction – followed by a special evening of dancing. Día de los Muertos-inspired cocktail attire is encouraged. The event takes place at Edison's, a short walk from Cedars Station on the Red and Blue lines.
Saturday, Oct. 29
Día de los Muertos Parade and Festival takes place from 2-7 p.m., and then culminates at 7 p.m. in a parade that makes its way through downtown Dallas and around the AT&T Discovery District. The parade starts and ends at Dallas City Hall. Jaxon Beer Garden, in the AT&T Discovery District, will be hosting an afterparty with live music by heavy metal mariachi band Metalachi and DJ Turo. The AT&T Discovery District is a few blocks from Akard Station on all four DART Rail lines.

Ghost Town is a scary good time in Historic Downtown Carrollton. Grab some candy, make a craft, and play some carnival games. This event features a ghost hunt on the square, shopping, a scavenger hunt, and a screening of family-friendly Casper at sunset. Dress up in your best costume, and you may win the costume contest at 6:30 p.m. The event starts at 4 p.m. and is just a short walk from the Green Line's Downtown Carrollton Station.
Paddington Gets in a Jam finds everyone's favorite bear making a mess of things despite his best intentions. To see for yourself, take the family to the Eisemann Center, right across the plaza from Galatyn Park Station on the Red Line. The production is one day only, but there are two performances.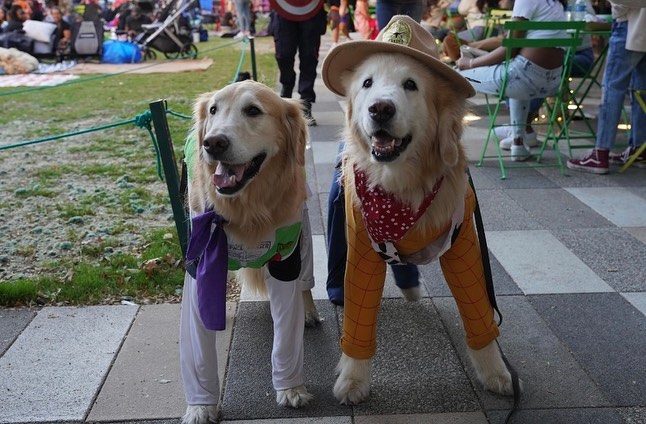 Trick-or-Treating in the Park is a seasonal celebration at Klyde Warren Park. Families are encouraged to dress up and collect candy, along with other activities, from 5-7 p.m.; at 7 p.m., enjoy a screening of Hocus Pocus. The park is a short walk from St. Paul Station on all four DART Rail lines. You can also get there on the M-Line Trolley.

Sunday, Oct. 30
Raphael, one of the most successful Spanish singers in the world, comes to Irving in support of his latest album, 6.0. Catch him at The Pavilion at Toyota Music Factory, walkable from Irving Convention Center Station on the Orange Line. You can also take Bus Route 227 to the venue.


Monday, Oct. 31
Psycho, easily one of the most classic films ever made, is perfect for Halloween. It might not be the "weekend" anymore, but you won't want to miss seeing the Bates Hotel on the big screen at the Angelika Film Center, just across the mezzanine from Mockingbird Station on the Red, Blue and Orange lines.
DC