Harps, fiddles and storytelling. Those are three ways to say "Irish." You'll discover them all – plus dance, food and vendors – at the North Texas Irish Festival. One of the largest Irish festivals in the U.S., the family-friendly event happens in Fair Park from March 3-5. DART takes you right to the fun and shenanigans.
The festival is known far and wide as a premier venue for traditional Celtic music – and this year's lineup includes Sliabh Notes, The Logues, Rory Makem, and Celtic Aire, among many others. Some other ways the festival celebrates the Emerald Isle include dance performances and animal activities.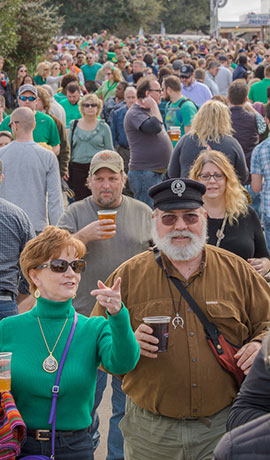 Don't miss the NTX Irish Festival Fun Run, a jaunt through the beautiful grounds of Fair Park on Saturday morning, March 4. This family-friendly fun run is perfect for runners or walkers of any age or ability.
If you plan to come on Friday night, you're in luck! Admission for the festival is FREE on Friday from 6-7 p.m. and $10 after 7 p.m. A one-day ticket is $25 on Saturday or Sunday at the gate, while a weekend pass is $45. Discount tickets are available at area Tom Thumb and Albertsons stores for $20 for a one-day ticket. Children under 6 are FREE when accompanied by adult family member. Seniors over 65 or current military members (with valid military ID) receive $5 off all gate prices. Purchase tickets online here.
Get on the Green Line (appropriately enough) and head to Fair Park Station to get your Irish on – no Irish lineage needed! If your entire trip begins after noon, don't forget that you can buy a P.M. Pass instead of a Day Pass and pay less. Learn more at DART.org/fares.
#DART2NTIF