It's time again for the biggest party in town! DART is your lucky ride to the St. Patrick's Parade & Festival on Saturday, March 11. Here are some lucky tips to make it a smooth experience.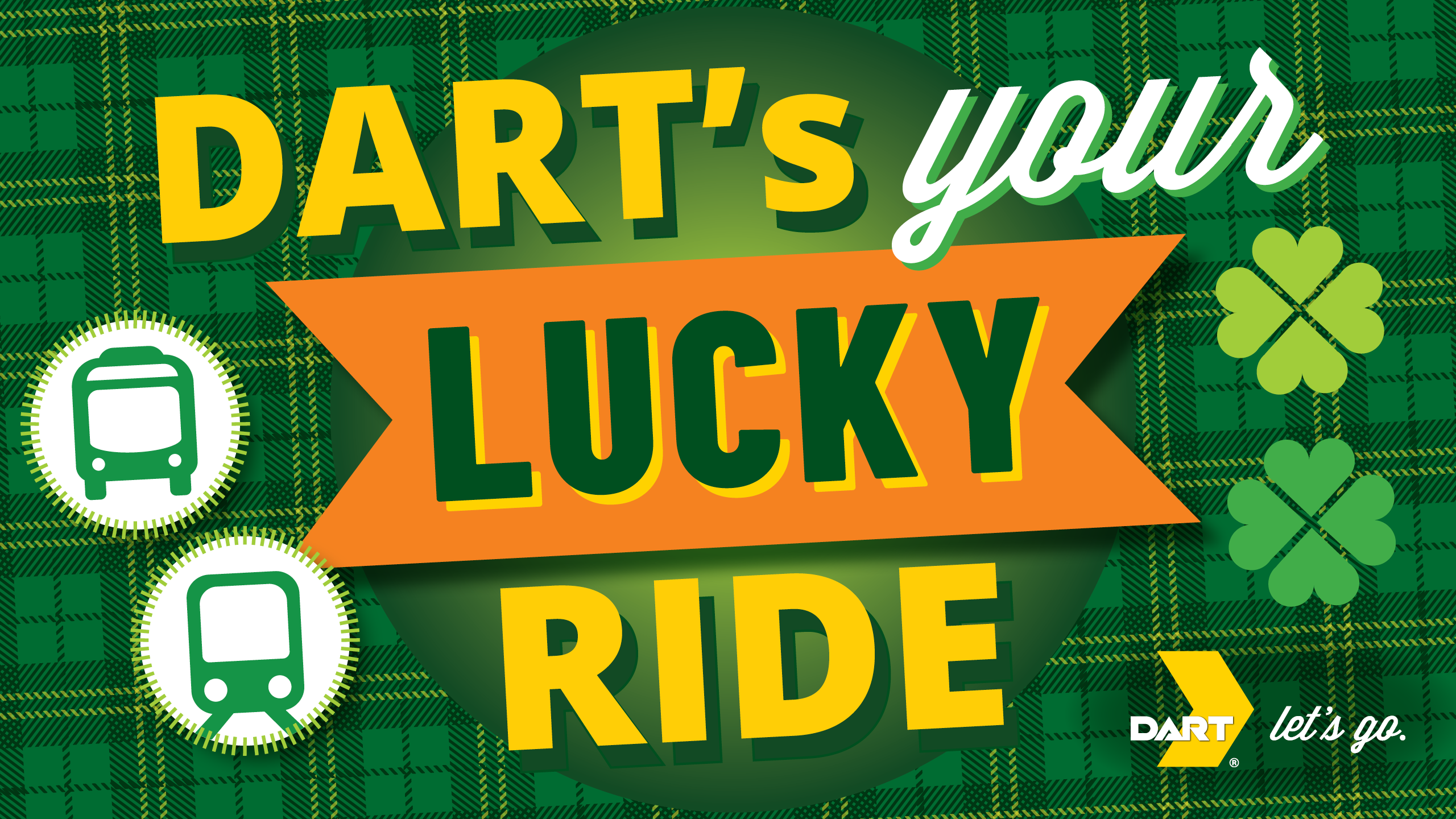 Get on board
Skip traffic and parking expenses – take the Red, Blue or Orange lines to SMU/Mockingbird or Lovers Lane stations. There are several dozen Park & Ride rail stations and transit centers throughout the DART Service Area. If you need to catch a transfer from the Green Line (the only line without direct service to St. Paddy's), do so at Bachman Station if headed from the north, and Pearl/Arts District Station if headed from the south. From the Trinity Railway Express (TRE) at Union Station, you can catch the Red or Blue lines directly to the festivities. DART personnel will be on hand to make sure you get on the right train.
Once you get there, just look for the thousands of people dressed in green!

Celebrate early and often
More than 100,000 people attend the parade each year, and they arrive early to claim the best viewing spots. Let DART help you get there safely. DART has added service on March 11 to meet demand on the day when everyone is Irish. DART encourages you to allow extra travel time and take advantage of the extra service.

Contactless payment
DART encourages all riders to buy their passes with one of our contactless fare payment options. Use the GoPass® app, GoPass® Tap, contactless credit/debit card, or payment-enabled mobile device. You can also buy a ticket at the ticket vending machines located on each rail platform.
Download the latest version of GoPass in the Apple App Store or Google Play. Purchase GoPass Tap cards at participating retailers. Learn more at GoPass.org.
Be sure to activate your ticket in the GoPass app or tap your contactless credit card or device to a reader prior to boarding. Day Passes are only valid on the day of activation.

Get all the details of the festivities
DART makes it easy for parade and festival-goers, as well as runners participating in the St. Paddy's Day Dash Down Greenville 5K . Click here for complete parade details including the parade route.