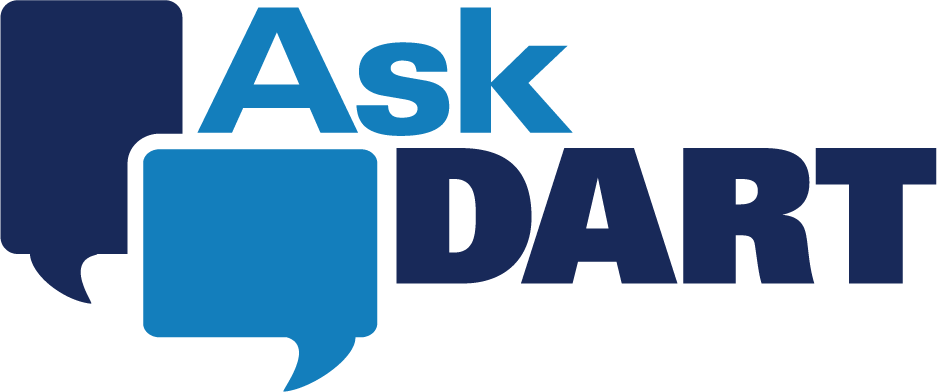 Question:
I hear DART is planning service changes in October. How can I prepare and stay current on alerts and updates?
Answer:
We know you depend on us to get where you need to go, and our goal is to provide the level of service you deserve. That's why on Monday, Oct.19, DART will restore service levels to 90% of their pre-pandemic levels.
Stay in the know of relevant news and updates with DART's online and mobile resources, such as My DART Updates. After you register for My DART Updates, you will receive text and/or email messages about specific rail lines and bus routes, along with other DART information. Sign up at DART.org/email.
With the on-going pandemic, a lot has changed -- but not our commitment to your safety and security. DART has responded to this ever-changing situation by increasing vehicle cleanings on all buses and trains and by providing contactless payment options, so you get where you need to go safely.
Also, for your well-being and the well-being of those around you, you must now wear a face covering while on DART vehicles or property. If you don't have one, feel free to grab a complimentary mask from one of the dispensers on board our vehicles. We've also implemented social distancing initiatives to reduce the number of passengers on our vehicles; provided Personal Protective Equipment (PPE) to our employees; and installed respiratory droplet shields to protect both you and our operators.
DART also encourages you to take personal responsibility by following recommendations from the Centers for Disease Control and Prevention and practicing these everyday preventative actions when riding:
Avoid close contact with people who are sick.
Avoid touching your eyes, nose and mouth.
Cover your cough or sneeze with a tissue; then throw the tissue in the trash.
Clean and disinfect frequently-touched objects and surfaces using an approved cleaning spray or wipe.
Wash your hands with soap and water for at least 20 seconds, especially after going to the bathroom; before eating; and after blowing your nose, coughing or sneezing.
If soap and water are not readily available, use an alcohol-based hand sanitizer with at least 60 percent alcohol.
Given the current pandemic, DART also encourages you to purchase fares using the GoPass app or a GoPass Tap card, instead of purchasing it at a ticket vending machine. This prevents you from coming in contact with surfaces that others may have touched. By switching to the app, you can not only buy passes, but also plan trips as well!
For more information about the October 19 service modifications, please visit DART.org/mod.
Finally, for more information about DART's response to the coronavirus, please visit DART.org/Ask.
DART has worked hard to provide transit service throughout the pandemic while doing its part to help slow the spread of the coronavirus. Working closely with local, state and national health authorities, we remain committed to doing everything possible to keep you and our employees safe.
We look forward to seeing you on board.
#AskDART