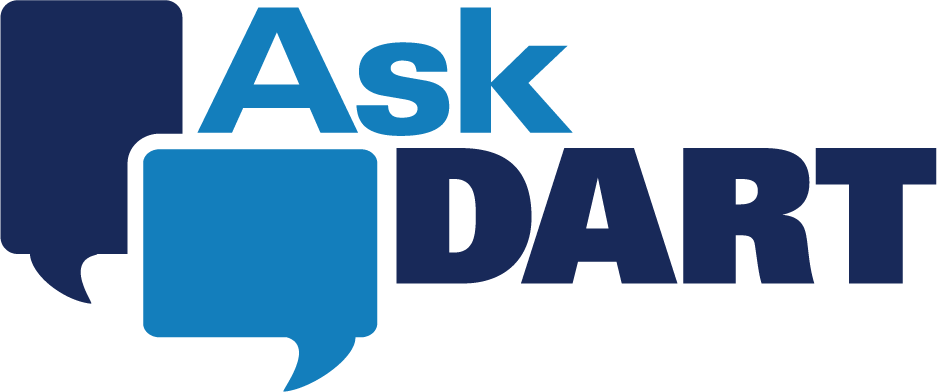 Question:
During the coronavirus pandemic, is DART still providing paratransit service? If I am not a current paratransit customer, how do I sign up?
Answer:
DART Paratransit Services has continued operations during the coronavirus pandemic.
Paratransit vehicles receive a complete wipe-down with an EPA-approved cleaning agent after each trip. Passengers are required to wear a face mask or similar face covering unless you have a medical reason why you cannot wear one. Passengers who feel sick or are experiencing symptoms are encouraged to stay home and avoid public places.
Current DART paratransit customers now can schedule, view and cancel trips 24 hours a day, 7 days a week at DART.org/RidePara. First you will need to create an online account using your DART Paratransit ID and email address to register.
If you are not a current DART paratransit customer, here is a summary of the certification process:
1. Complete a Paratransit Certification Form.
2. Obtain written verification of your disability from a physician.
3. Return the form and verification documents to Paratransit Services.
DART Paratransit Services is accepting information via email at [email protected] or by fax at 214-828-6642. Once paperwork is received, complete and correct, we will contact you to set up an appointment for assessment.
4. Be certified by a DART Eligibility and Training Specialist.
Paratransit in-person assessments are not available while DART Headquarters is closed. Assessments are being done over the phone temporarily. Call 214-828-6717 for assistance. After the assessment, DART will notify you if you were approved or determined not eligible for Paratransit Services.
DART-certified paratransit riders also may ride fixed-route services at no cost.
Learn more at DART.org/paratransit.
#AskDART