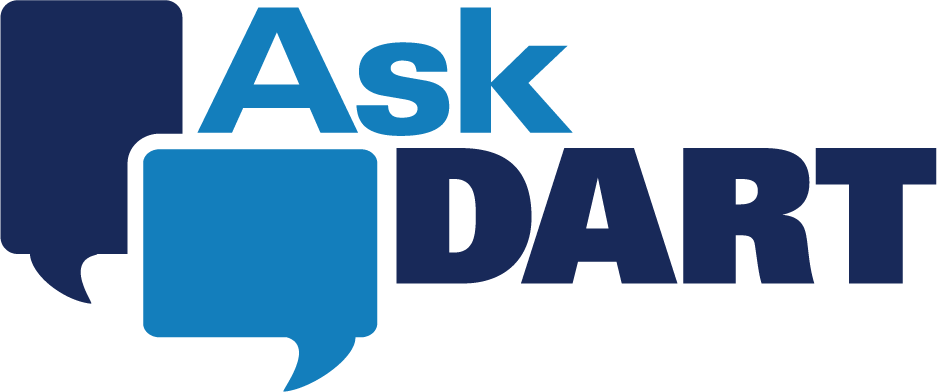 Question:
When will DART restore its service, and how do I sign up for updates?
Answer:
DART is restoring 90% of pre-pandemic service levels beginning Oct. 19.

The DART Board of Directors approved the proposed modifications after determining that the service is within the proposed fiscal year 2021 budget and 20-year financial plan allocations.
The Board action comes after DART implemented temporary service adjustments for the bus and light rail system on April 6 that better reflected ridership demand at that time due to the COVID-19 pandemic.

Service restoration includes 65 bus routes being restored to pre-pandemic service levels. A total of seven core frequent bus routes, as well as all light rail train operation service, will move to 20-minute frequency until 7 p.m. on weekdays.

Learn more about how DART is restoring its service at DART.org/news.

Stay Up to Date with DART's Online and Mobile Resources
Stay in the know of relevant news and updates with DART's online and mobile resources.
My DART Updates
A great way to stay up to date on service alerts and other DART-related news and information is to register for My DART Updates. Once registered, you will receive text and/or email messages about specific rail lines and bus routes, along with other DART information. Sign up at DART.org/email.
DART.org
DART.org allows you to access travel tools like the trip planner, bus and train locators, rider alerts, point-to-point schedules as well as press releases. You can also access the site on mobile platforms using m.DART.org.
DART Daily Blog
DART Daily is our official bog and your regular dose of what's happening on DART. Discover stories about people and your community, transit insights and local and national news. Have you subscribed to our blog? Look on over to the right navigation bar on the blog. Under "Get DART Daily by Email Subscribe," type in your email address then click the "Subscribe" button to be among the first to receive new articles.
Social Media
See what DART is up to on social media. Follow @DARTmedia and @DARTalerts on Twitter, @DARTDallas on Facebook, @DARTDaily on Instagram and @DARTDallas on YouTube.

GoPass App
For those who depend on DART to get to their place of employment during this challenging time, the GoPass app is a useful tool. On the app, you can buy your transit pass, so there is no need to touch the ticket vending machines. The app also allows you to plan trips and track buses and trains in real-time. Download the app from the Apple App Store or the Google Play Store.
DART Say Something App
If you need to report an issue, take advantage of the free DART Say Something safety and security app. With this app, you can discreetly communicate with DART Police and send them photos, videos, text descriptions and your location. You can also download the app from the Apple App Store or the Google Play Store.
#AskDART