As 2022 comes to a close, Dallas Area Rapid Transit (DART) looks back on all of the accomplishments this year.
January: DART Launches New Bus Network
With the goal of providing greater frequency, longer service hours and improved access to destinations across North Texas, DART's new bus network launched on January 24. The new bus system is designed to ensure passengers have quick and easy access to employment, education and entertainment destinations.
To celebrate the launch of the New Bus Network, all rides were free the week of January 24 - 30. DART also offered 50% off all rides purchased with any DART contactless payment option from January 31 until end of service on February 14.
February: DART Asks Young Artists: Where Would You Like to Go?
The annual DART Student Art Contest began accepting individual entries from all North Texas students. The theme of this year's contest is "DART's New Bus Network: Simpler. Better. Faster. Easier!"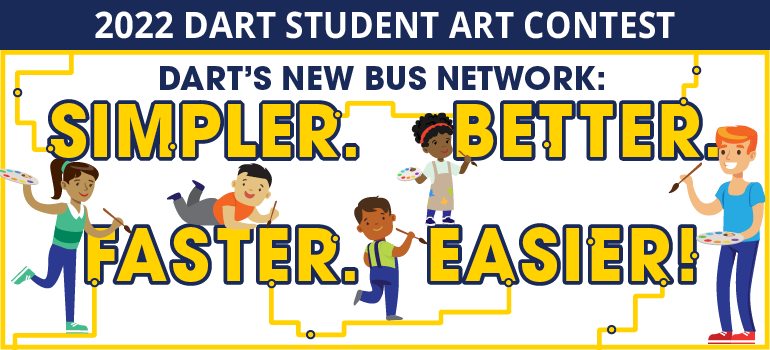 Kindergarten through 12th grade students throughout North Texas competed for the opportunity to have their artwork featured on DART rail stations, buses and inside trains. The winner's artwork was displayed at the Dallas Museum of Art, Love Field Airport, and on DART's website.
March: DART Board Chair Michele Wong Krause Selected as 2022 Celebrating Women Who Move the Nation Award Winner
DART Board Chair Michele Wong Krause was selected by the Conference of Minority Transportation Officials (COMTO) as a 2022 Celebrating Women Who Move the Nation Award winner.

The Celebrating Women Who Move the Nation Award is one of the highest honors bestowed by COMTO and recognizes women in transportation from across the nation that have provided inspirational leadership by opening career pathways for women and for their extraordinary achievements in the industry.
April: DART Offering Up to $2,000 Sign-On Bonus for New Bus Operators
With DART's redesigned bus network providing greater frequency and longer hours, as well as better access to jobs, DART offered a sign-on bonus of up to $2,000 for passionate and motivated bus student operators.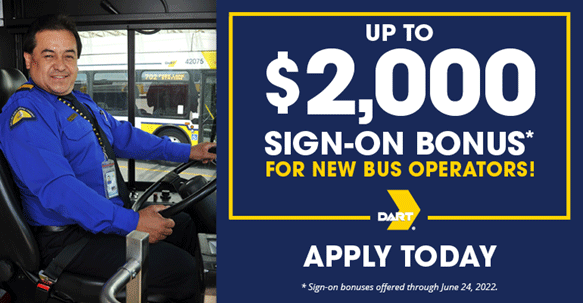 May: DART's Annual Bike to Work Day Event
On May 20, DART invited North Texans to pedal to work as part of the Dallas area's 2022 Bike to Work Day annual event.

Launched in 2001, Bike to Work Day is a national event to encourage people to try bicycle commuting as a healthy and safe alternative to driving. DART buses and trains have features that make it simple to combine riding your bike with riding transit. On the front of DART buses, you'll find easy-to-use storage racks, while on rail you can just roll your bike onto the train. At rail stations and transit centers, DART offers bike racks as well as bike lids. Both are free of charge and available on a first-come, first-served basis.
June: Nadia Nesich Wins "Best of Show" at 2022 DART Student Art Contest
Nadia Nesich, a 7th grade student at Pegasus School of Liberal Arts & Sciences in Dallas, is this year's Best of Show winner in DART's annual Student Art Contest.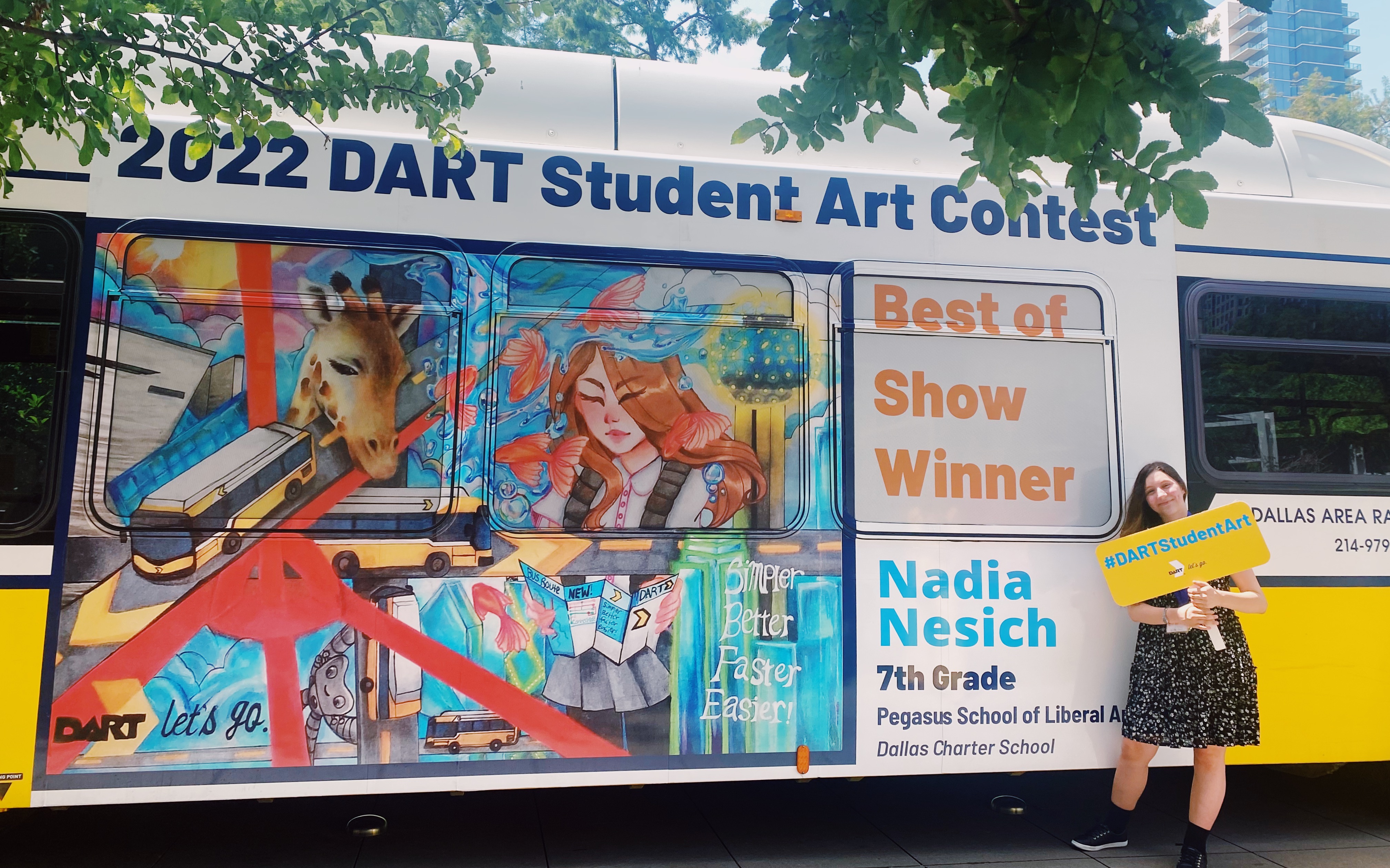 July: DART Silver Line Community Meetings Begin July 25
DART announced the next series of Silver Line Regional Rail Biannual Community Meetings. DART staff and our design-build contractor, Archer Western Herzog (AWH), were on hand to outline the latest design and construction developments and answer questions.

With revenue service scheduled for 2024, the 26-mile Silver Line project will traverse seven cities between DFW Airport, Grapevine, Coppell, Dallas, Carrollton, Addison, Richardson, and Plano, and include 10 new stations. The primary purpose of the Silver Line is to provide passenger rail connections and service that will improve mobility, accessibility and system linkages to major employment, population, and activity centers in the northern part of the DART service area.
August: DART Welcomes Charles Cato as New DART Chief of Police
After an extensive national search, Charles Cato was selected as the new chief of police at DART. A public safety executive with almost 33 years of law enforcement and leadership experience, Cato will direct and oversee the DART Police Department including sworn officers, emergency preparedness, security services and related functions to carry out DART's safety, security and emergency preparedness initiatives.
September: DART and Assurance Wireless Partner to Offer Free Cell Phone Service to Eligible DART Riders

DART partnered with Assurance Wireless to offer free cell phone service and a free cell phone to eligible DART riders who are currently enrolled in a qualifying federal or state assistance program. Participants can also receive a Discount GoPass® Tap Card, with a 50% discount on the regular price of a DART pass.
October: DART Police Host National Night Out on October 4
The DART Police Department hosted its annual National Night Out on Tuesday, October 4.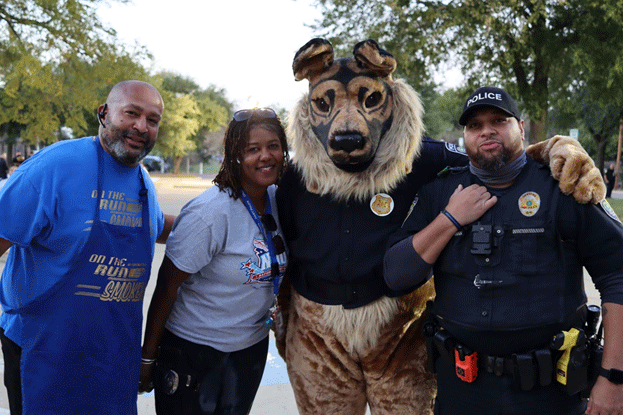 The public were invited to meet DART police, fare enforcement officers, staff and neighbors in the parking lot of police headquarters, located at Illinois Station on DART's Blue Line.

DART's event was fun for the entire family with health and wellness literature, crime prevention and safety information, food, beverages and music.

National Night Out is an annual community-building campaign that promotes police-community partnerships and neighborhood camaraderie to make our neighborhoods safer, more caring places to live. National Night Out enhances the relationship between neighbors and law enforcement while bringing back a true sense of community and provides a great opportunity to bring police and neighbors together under positive circumstances.
November: DART Launches Clean Team Initiative on Light Rail Trains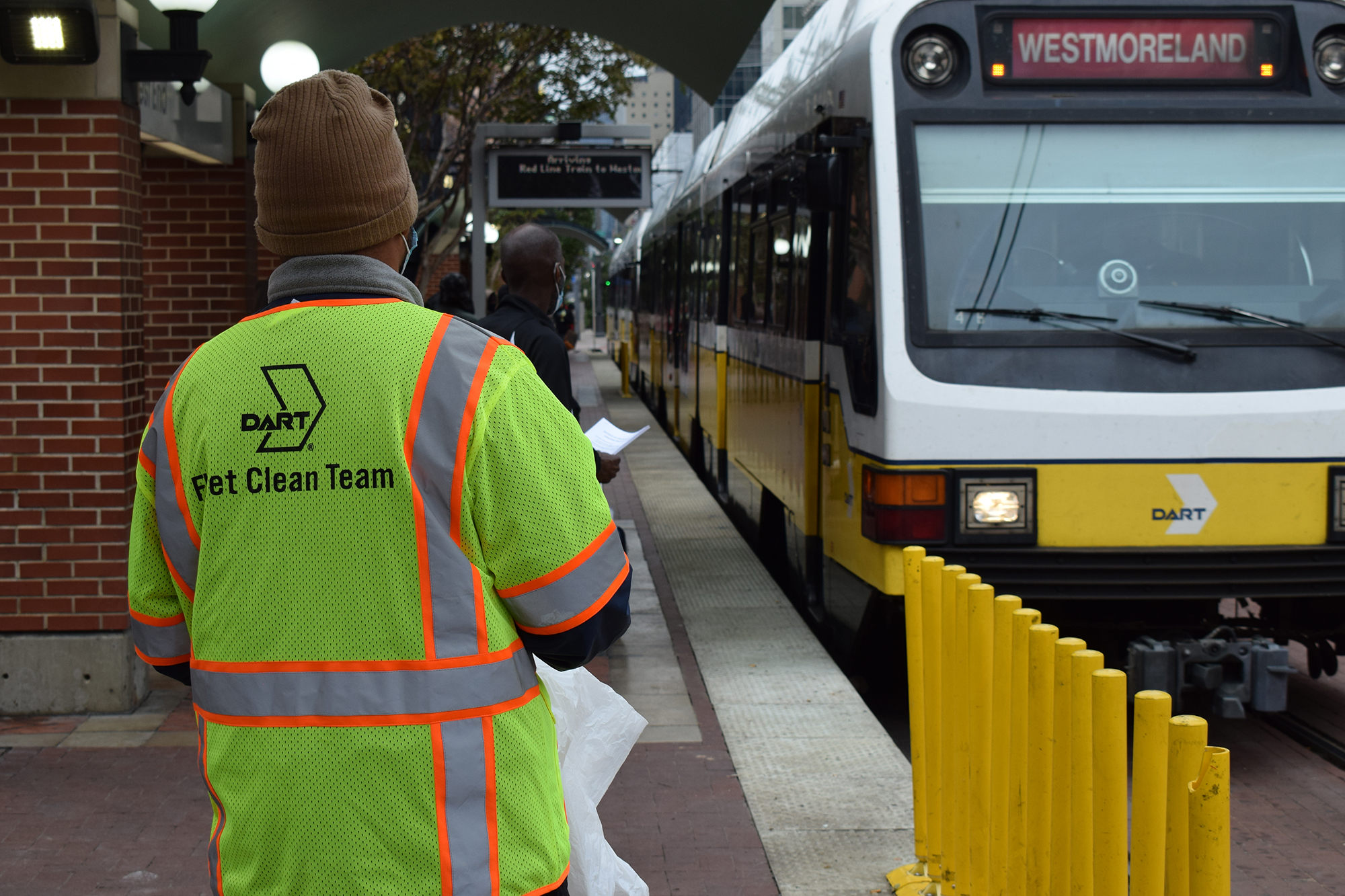 DART launched a new pilot program that will substantially increase the agency's commitment to riders to provide a safe and clean transit experience.

The DART Clean Team Initiative utilizes on-board contract cleaning personnel from United Community of Faith to remove trash and debris aboard DART light rail vehicles as they operate throughout the DART network, supplementing the extensive cleaning protocols already in place.
December: 1st Annual DART Holiday Train and Buses Bring Holiday Cheer
DART proudly rang in the season with its first annual holiday train and buses hitting the road. Each car of the DART Holiday Train is wrapped with snowmen and hundreds of twinkling holiday lights to create holiday cheer for our riders and everyone who sees them.