Dallas Area Rapid Transit (DART) is proud to ring in the season with its first annual holiday buses and trains hitting the road - and the tracks - this week.
DART Holiday Train
Each car of the DART Holiday Train is wrapped with snowmen and hundreds of twinkling holiday lights to create holiday cheer for our riders and everyone who sees them.

The holiday train will travel throughout the entire DART Service Area, making regularly scheduled stops at each station along the route each evening.
DART Holiday Buses
The DART Holiday buses will travel on various bus routes throughout the DART Service Area through the end of the year.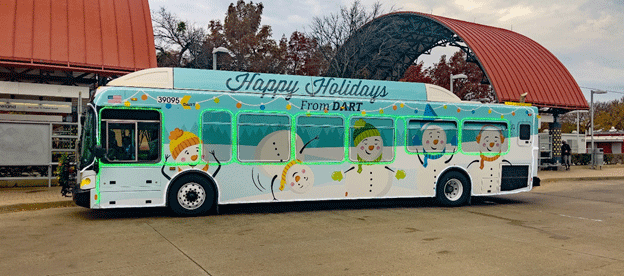 For everyone looking for a chance to ride the DART Holiday Train and Bus, please use our "Festive Vehicle" tracker on the DART Trip Planner at DART.org.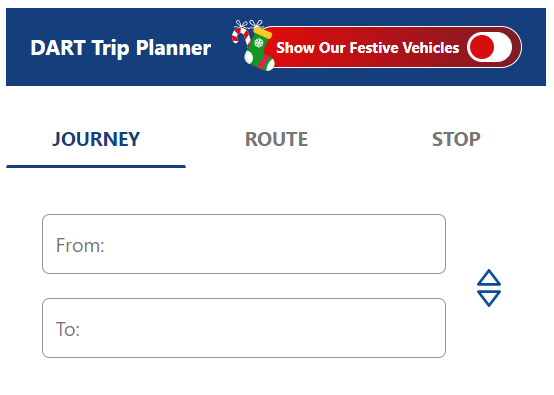 Visit the DART Holiday Stations
DART will hold two Holiday Station events featuring radio remotes, live music performances, and a visit from Santa Claus. DART staff will also bring the holiday cheer with promotional giveaways and helpful information to help residents enjoy DART services throughout the season and into the new year.

Saturday, Dec. 10, 2022
12 - 2 p.m.
Cockrell Hill Transfer Location
4430 West Jefferson Blvd.,
Dallas, TX 75211

Tuesday, Dec. 13, 2022
12 - 4 p.m.
Akard Station
1401 Pacific Avenue
Dallas, TX 75202
-- 30 --