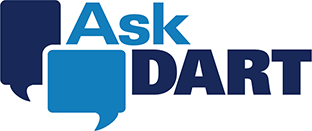 On Jan. 23, 2023, DART will increase the frequency on 22 bus routes to 15-minute peak service. In addition, the agency now will offer service in all DART GoLink zones seven days a week, 5 a.m. to midnight.
DART made temporary frequency adjustments to most of these routes in June 2022 due to bus operator shortages. Thanks to a successful hiring effort, DART is able to restore these routes to the frequency intended as part of the New Bus Network.
Full details on the affected routes can be found at DART.org/ServiceChange.
Bus Route Frequency Changes
DART is returning 22 of its most frequent bus routes to original New Bus Network frequency levels. Click on the links for more information. The impacted bus routes are as follows:

1-Malcolm X/Maple
3-Ross
9-Jefferson/Gaston
23-Haskell
25-Cockrell Hill North
27-Ridgecrest
28-Singleton
30-Lake June
41-Bonnie View
45-Marsalis
47-Polk
55-Love Link – This route is being renamed Route 5 Love Link, and DART is increasing the frequency
101-Hampton
102-Fort Worth
103-Cedar Springs
104-Illinois
105-Henderson
106-Bickers
108-Camp Wisdom
109-Beckley
114-East Oak Cliff
306-Glenn Heights Express


Individual Bus Route Changes
Several bus routes will have changes other than frequency. The impacted bus routes are: 1, 3, 105, 200, 202, 232, and 442. Details on the specific route modifications can be found online at DART.org/ServiceChange.
Modifications to bus bay assignments will be made at Southwestern Medical District/Parkland Station, CityLine/Bush Station, and Convention Center Station.

Minor Schedule Adjustments
Schedule adjustments have been made to routes 1, 3, 9, 200, 202, 207, 209, 232, 237, 306, and 378.

GoLink Service Hours, Days Expanding
In response to a high volume of feedback from GoLink riders, the majority of the 30-zone system* will begin seven-day-a-week operation, with service hours extended from 5 a.m. until midnight, nearly equal to bus and light rail service hours.*

Get the full details at DART.org/GoLink.

* GoLink Inland Port Connect– a zone operated jointly between the Inland Port TMA,
STAR Transit, and DART – will remain weekdays only from 5 a.m.-8 p.m.