Have you noticed more cleaning staff on the trains and at the light rail stations? Do the vehicles and platforms look cleaner than before?
If you #CatchTheCleanerDART in action, take photo of the Clean Team or a really clean vehicle and share it on social media with the hashtag #CatchTheCleanerDART for a chance to win $100.
See the contest's Terms & Conditions below.
Increasing on-board and midday cleaning
DART has launched a new pilot program that will substantially increase the agency's commitment to riders to provide a safe and clean transit experience.
The DART Clean Team will remove trash and debris aboard DART light rail vehicles as they operate throughout the DART network, supplementing the extensive cleaning protocols already in place.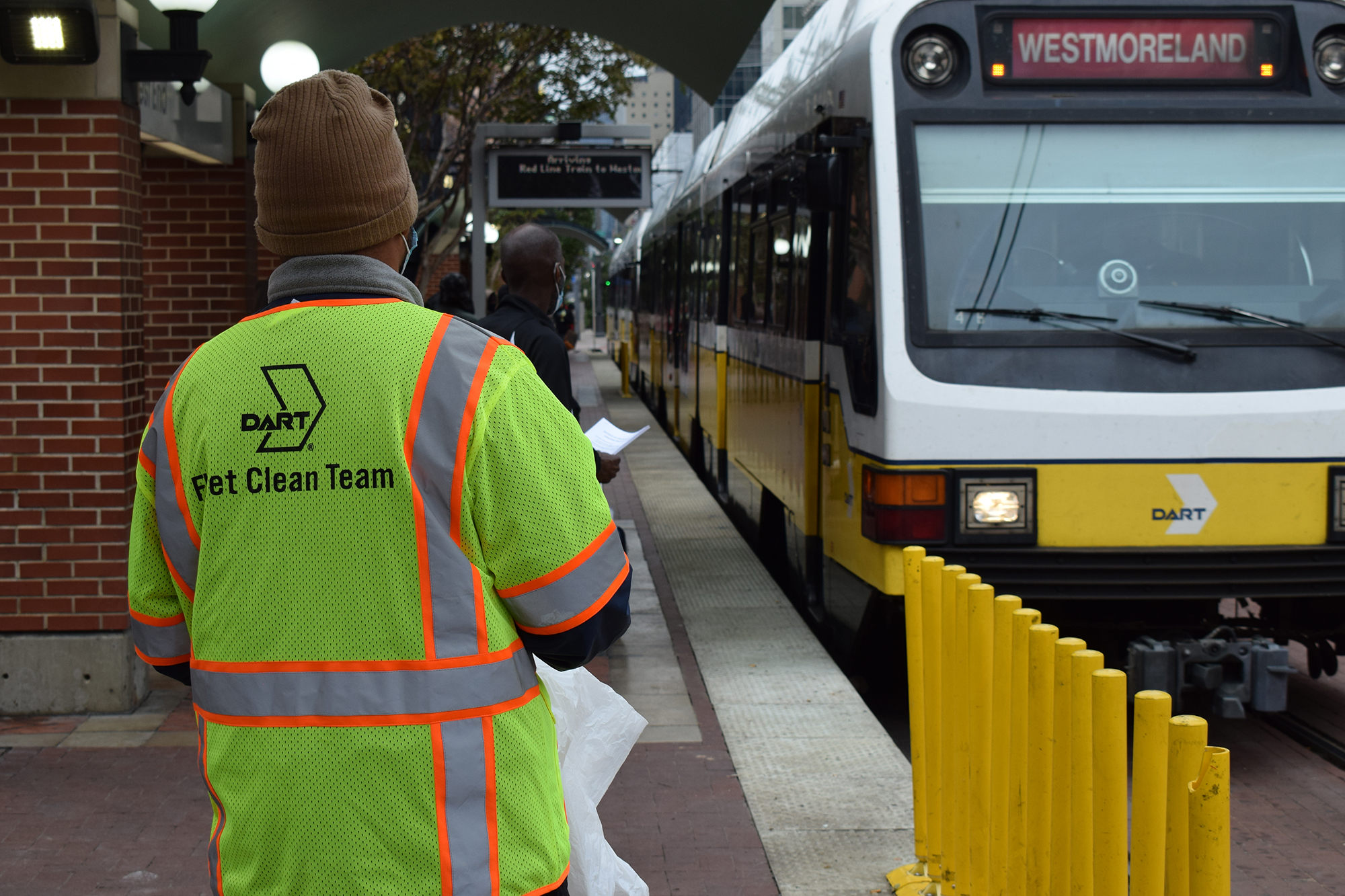 Clean Team Initiative Pilot Program
Each weekday night, DART light rail vehicles currently receive a complete cleaning between the hours of 7 p.m. and 3 a.m., while the vehicles are at the rail yards. This includes sweeping, mopping and a complete wipe-down with an EPA approved cleaning agent.

Through the new Clean Team Initiative pilot program, 24 additional contract cleaners will board light rail vehicles across the DART network on all four light rail lines throughout the day. Two shifts will operate Monday-Friday, between 6 a.m. and 10 p.m.
If you see a cleanliness concern with any DART vehicle or facility, please contact the DART Customer Information Center at 214-979-1111, or through the DART GoPass App.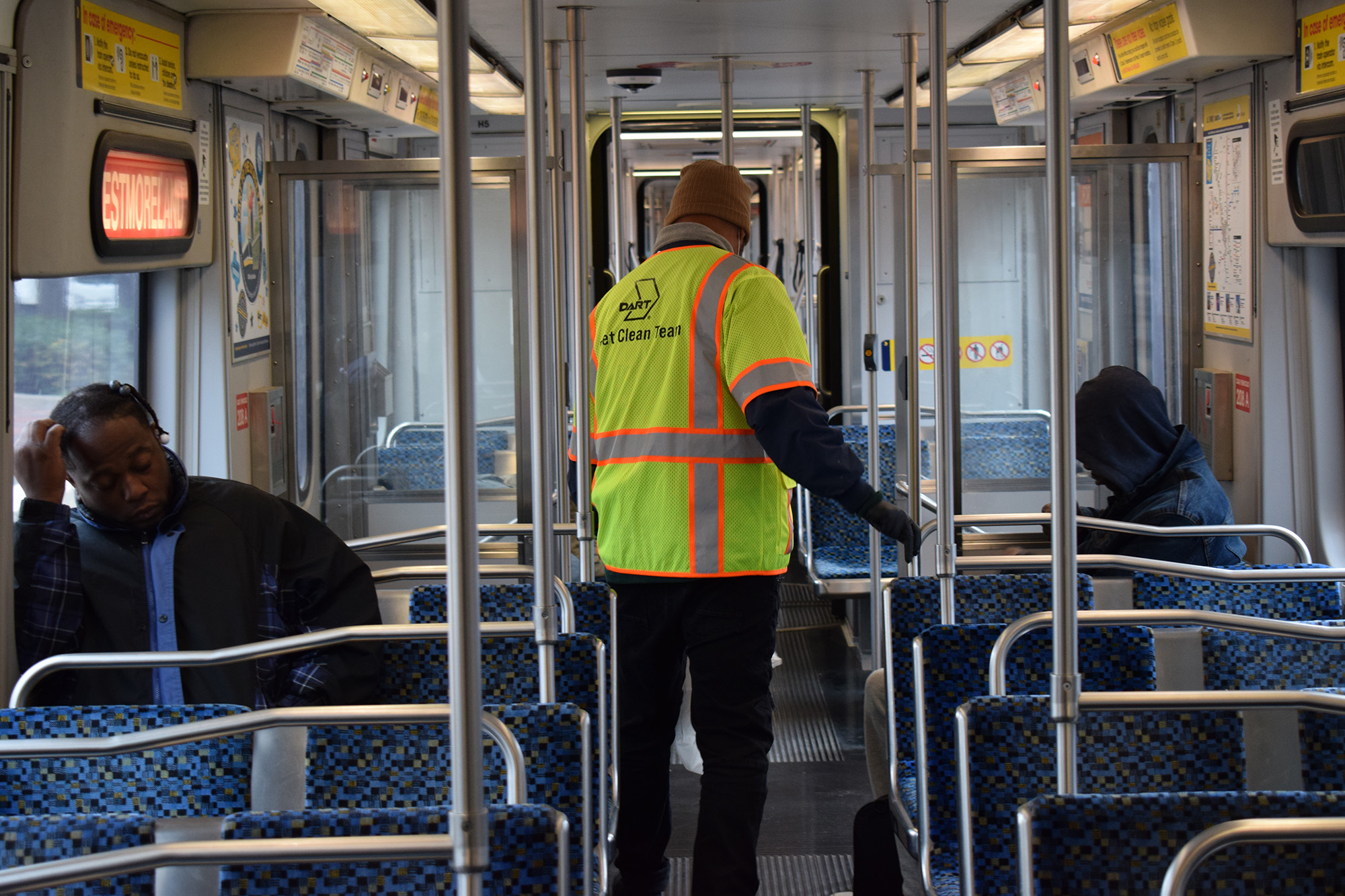 Sweepstakes Terms & Conditions
NO PURCHASE IS NECESSARY TO ENTER OR WIN THE CATCH THE CLEANER DART SWEEPSTAKES ("Sweepstakes"). A PURCHASE DOES NOT INCREASE THE CHANCES OF WINNING.
1. Eligibility: Sweepstakes participants must be at least 18 years old and legal residents of the United States on the date of entry. Employees of Dallas Area Rapid Transit ("Sponsor"), immediate family members of Sponsor employees, and those living in the same household of a Sponsor employee are not eligible to participate in the Sweepstakes. Companies providing advertising, marketing, or promotional services to Sponsor and employees of those entities are also not eligible to participate.
2. Sweepstakes Period: Entries will be accepted online starting on February 6, 2023, at 12:00 a.m. CST and ending April 30, 2023, at 11:59 p.m. CST.

3. How to Enter: The Sweepstakes may be entered by creating a social media post on Facebook or Instagram that uses the hashtag #CatchTheCleanerDART with at least one picture of either of the following images: (1) a photo of the DART Clean Team in action cleaning a DART bus or train, or (2) a clean DART bus or train. The entry must fulfill all requirements, as specified in these Rules, to be eligible to win a prize. You may have unlimited entries throughout each month. Each unique social media post with #CatchTheCleanerDART hashtag equals one entry. You may not enter more times than indicated by using multiple email addresses, identities, or devices in an attempt to circumvent these Rules. If you use fraudulent methods or otherwise attempt to circumvent these Rules, your submission may be removed from eligibility at the sole discretion of Sponsor.

4. Prizes: Sweepstakes drawings will be held on March 1, 2023, for the February entries, April 1, 2023, for the March entries, and May 1, 2023 for the April entries. The three winners will each receive one $100 Amazon gift card (the Prize). The specifics of the Prize shall be solely determined by Sponsor. No cash equivalent is permitted. The Prize is non-transferable. Any and all Prize-related expenses, including without limitation any federal, state, or local taxes, shall be the sole responsibility of the winner.
5. Odds: The odds of winning depend on the number of eligible entries received and are therefore unknown to Sponsor.
6. Winner selection and notification: Sponsor will attempt to contact eligible winners by direct message through the social media platform utilized by the winner to post the winning entry. If a winner has not responded to the notification within one week of the notice or is ineligible under these Rules, the winner will be disqualified and another winner will be selected by a secondary random drawing.

7. Rights Granted by Entering Sweepstakes: By entering the Sweepstakes, you understand and agree that Sponsor, including Sponsor's employees, directors, contractors, licensees, successors and assigns shall have the right, where permitted by law, to print, publish, broadcast, distribute, and use the winner's entry, name, portrait, picture, voice, likeness, image, statements about the Sweepstakes, and biographical information as news, publicity or information and for trade, advertising, public relations and promotional purposes without any further compensation or notice to the winner and without any review by or consent from the winner.

8. Terms and Conditions: By participating in the Sweepstakes, you agree to be contractually bound by these Rules, and you represent and warrant that you meet the eligibility requirements set forth herein. In addition, you agree to accept all decisions of Sponsor related to the Sweepstakes as final and binding.
Sponsor may cancel, terminate, modify, or suspend the Sweepstakes at any time and for any reason. Sponsor may disqualify any individual who tampers or attempts to tamper with the entry process or the operation of the Sweepstakes, or who otherwise violates these Rules. Additionally, such actions may be a violation of criminal and/or civil laws.
9. Limitation of Liability: By participating in the Sweepstakes, you RELEASE AND HOLD HARMLESS Sponsor, including its officers, directors, employees, contractors, representatives, and agents from any liability, claim, or cause of action for illness, injury, death, loss, or damage arising from or relating to the Sweepstakes. Sponsor does not waive its governmental immunities, defenses, and protections by conducting the Sweepstakes.
10. Disputes: The Sweepstakes is governed by the laws of Texas and all disputes arising out of or connected with the Sweepstakes shall be resolved before a court having jurisdiction in Dallas County, Texas.

11. Privacy Policy: Information submitted with a Sweepstakes entry is subject to DART's Privacy Policy, available at DART.org/about/privacypolicy.asp. Sponsor is subject to the Texas Public Information Act.

12. Winners List: Sponsor will provide a copy of the winners' names and/or these Rules upon written request.
#CatchTheCleanerDART