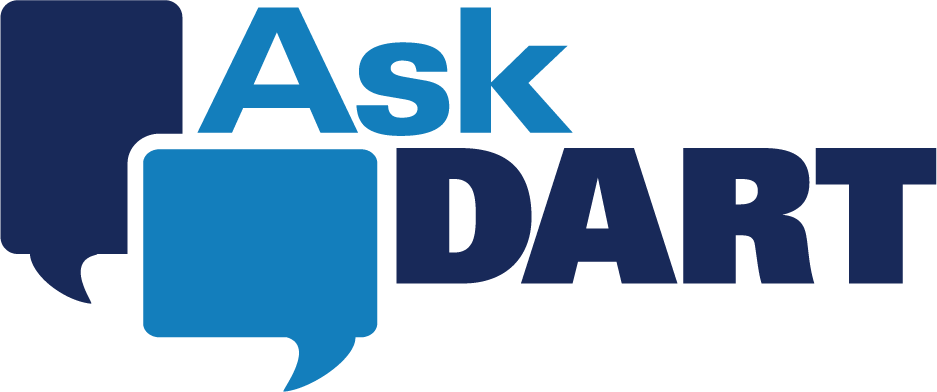 Qualified riders can apply for a Discount GoPass Tap card three ways:
1. In person at DARTmart at Akard Station
Bring a photo ID, proof of participation in a qualifying assistance program, and at least $6 to load onto your new card.
2. Online at DART.org/TapForHalf
Click on the button that says, "Register Now." Follow the instructions for attaching your photo and proof of participation in a qualifying assistance program.
3. Call the DART Tap for Half team at 972-482-6491
DART staff will collect your information over the phone, and they will arrange for you to submit a photo and qualifying documentation over text message.
You must submit a separate registration form for each qualified person in your household because each person must have their own unique Discount GoPass Tap card to ride. If you register for your card online or over the phone, the DARTmart staff will mail your card to you.
Your Discount GoPass Tap card will be white and have your name, photo, and a sticker with the discount expiration date of Dec. 31, 2022. DART fare enforcement officers, police officers and bus operators know that anyone with this card qualifies for reduced DART fares.
How do I add funds to my Discount GoPass Tap card?
You can add value to your tap card with cash or credit at hundreds of retail locations, including 7-Eleven. Find a location near you at GoPass.org under the "GoPass Tap" menu.
You can also add value to your account online at GoPass.org, or by calling DART Customer Service at 214-979-1111, Option 1.
Lastly, you can visit DARTmart in DART Headquarters at Akard Station. The staff will help you reload funds on your card and answer any questions.
How do I register my Discount GoPass Tap card for fare capping?
Your card is automatically registered when it's issued. As soon as you start using your card, you benefit from daily and monthly fare capping and account balance recovery.
If you provide an email address when you register, you will receive a message to remind you to fully register your card so you can manage your account online.
To create an online account, go to GoPass.org and click "Create New Account" at the top of the page. Once you have set up your GoPass Tap Account, you can reload your card, view your transaction history, and save payment methods online.
When you tap your card, you are never charged more than the cost of a Day Pass (Local or Reduced) in a single day, or a Monthly Pass (Local or Reduced) in a calendar month. The system always gives you the "best fare."
Check out the Frequently Asked Questions on GoPass.org for more information.
For more information about the Discount GoPass Tap card program, visit DART.org/TapForHalf or check out our other two DART Daily articles:
Ask DART: What is the Discount GoPass Tap card?
Ask DART: Who qualifies for the Discount GoPass Tap card?
#TapForHalf